Rumour Has It: Jobs for Startup Companies
You've heard about the rumours of startups – various corporate buzzwords about exciting opportunities, flexible schedules, open-floor offices, and cute perks. Yup, the world is all about startups these days!
But what is a startup exactly? A startup is a company founded by an entrepreneur who wants to create a unique market offering: service goods, educational ventures, or technological assistance. Startups are known for their rapid development and the unique opportunities they offer their employees: from the ability to learn on the job to gaining insight into the ins and outs of developing a company.
Working for a startup has numerous benefits. While they may vary from one company to another, if you apply to work at one, you'll likely find these perks:
Flexibility. Both your time and space are totally up to you: startups usually give you a chance to work from home when you want to, enjoy hybrid options, or drop by the office whenever you feel like it. Similarly, you can organise your schedule too – some days you'll do a regular 9 to 5 shift; others, you might work late at night. Heck, you can call it quits early and make up for it over the weekend if you want!
Flat hierarchies. Gone are the days of cowering whenever you see your boss coming your way or being hyperaware of one's seniority. Startups are known for their relaxed attitudes to hierarchical structures. This fosters a friendlier and more productive work atmosphere.
Learning opportunities. Most of the time, it's possible and even encouraged to expand your knowledge both within and outside of the company. You may try doing tasks from another department or take courses and seminars that'll help you improve your skills.
Reduced supervision. If you're a fan of getting a job and getting it done without someone breathing down your neck all the time, you'll like it in a startup. These new companies prefer to hire skilled or enthusiastic workers and let them do their thing instead of micromanaging their every move.
Higher job satisfaction. With all their perks, startups have been shown to have an overall happier workforce than regular, more rigid companies.
There are plenty of other perks in startups, including free drinks and snacks, gym memberships, and wellness programs that make working for a startup attractive. If we've got your curiosity piqued, read on to explore various types of jobs you can do in a startup.
Starting Out in a Startup: Entry-Level Startup Jobs
Straight out of university and you land face-first into the spiky hell of the job market (think companies looking for applicants with preferably ten years of experience for entry-level jobs, offering below minimum wages, and then getting all sassy about how people don't want to work anymore). Startups rank much better on the unfairness scale because they tend to be far more accepting and reasonable in their expectations of people just breaking into the job market.
Common entry-level jobs in startups include various accounting positions, web development, content creation, and administrative duties. Depending on what you specialise in, it'll be easier to get a job in a startup even if you don't have experience because people running a startup understand that experience is gained by working, not imagined in one's sleep as they're ploughing through their studies.
Read All about It! Startup Marketing Jobs
To bring some common startup job opportunities closer, we're diving right into marketing. I'm not gonna lie; some time ago, I was convinced that marketing was all about smiling over-enthusiastically, chasing people in public places trying to sell them shady goods (possibly getting beaten up every now and then), and cold-calling, but I was quite wrong. Marketing is all about making the product known, and there's much more to it than superficial annoyance: devising a brand, planning out events and strategies for advertising, writing up texts, and learning a damn lot are all part and parcel of working in this branch.
Common marketing jobs include:
Advertising director
Art director
Arts and creatives
Copywriters and content creators
Media directors and assistants
Promotional roles
Branding managers
Designers
SEO operatives and managers (search engine optimisation)
… and similar roles. In startups in particular, marketing plays a huge role. Startups are new and growing companies that rely heavily on breaking into the market and delivering their services to target communities, all of which are carefully planned and carried out by the marketing team.
Money, Money, Money: Startup Finance Jobs
For all of you who are good with numbers, working in finance can be a lucrative opportunity. You don't need vast experience in number-pushing to get a job in a startup finance department. If you're highly organised, methodical, and analytical, you'll easily find your feet in finances.
Working in finance, however, is more than just crunching numbers. It also includes finding new corporate partners, teaming up to deliver better results, and securing new customers and responding to their needs. Finance departments in startups also monitor profit, develop strategies for progress, and manage sales.
Typical job titles in finances include:
Account manager
Sales representative
Campaign developer and manager
Product manager
Business developer
Accountant
Additionally, you may work as an assistant, receptionist, or bank teller (for which you don't need a degree). For a job in finance, a potential employer will also look at your entire skill set, and, pssst, being super communicative will help 😉.
It's in the Data: Startup Tech Jobs
If you've just graduated (or are about to) from any technical university, working in a startup is an excellent opportunity to gain hands-on experience, make an impact with your talents, and be widely respected. Every startup is quite keen on optimising its user experience – after all, startups love their users more than certain cocky companies out there. From software development to user experience research, here are common tech positions you can apply for:
Data engineer
Web automaton
B2B developer
UX writer
Product analyst
Backend engineer (work with a variety of programming languages)
Put your keen friendship with coding and debugging to good use in a startup and change the technological landscape of the world.
The Real MVP: Product Manager Jobs in a Startup
At the end of the day, after all other departments have joined forces to create an attractive, helpful, and unique product, someone still has to proof it before letting it leave the startup nest. Product managers are the real MVPs behind the production of the goods (be it online or offline), and it is they who decide on the optimal specifications of the product.
Product managers are also super keen on research and are always aware of what any competitor may be doing – they track progress and organise projects aiming to improve the product so that it'll consistently deliver and meet the customers' expectations (because how else do you keep your customers? 😊).
For this role, you'll need some experience, be it through internships or previous employment. The great news is that you can gain such experience by working in the same startup for a while before gunning for the big title. You should be organised and independent, have a good eye for detail and data analysis, and be ready to make quick decisions about product development.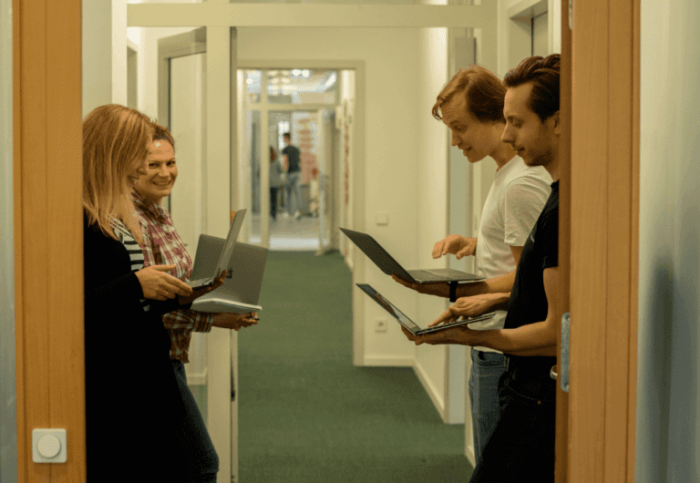 What about StudySmarter as an Employer?
As you already know, yours truly is also a startup company – in fact, a leading EdTech startup at that! Our primary goal is to make digital education accessible, affordable, and appealing to everyone (unlike some teachers out there). We aim to deliver quality content and cater to students of all ages who are looking for explanations, study sets, revision guides, and flashcards. Our app is also designed to motivate you to study regularly and achieve your goals without wanting to smash your head against the nearest wall at the very thought of studying. After all, the key is to study smarter, not harder.
As an employer with over 700 employees (and growing!) from all around the world, StudySmarter boasts all your startup qualities: A hands-on approach to its product, flexible worktime, a variety of hybrid options (including fully remote work), and all the other perks we mentioned above (you can check our careers page to see what we offer). We also have regular yoga and meditation sessions led by one of our own employees!
(PS You can get to know some of the #SmarterCrew here – they tell us why they love working at StudySmarter and how they found their career path).
'Working at StudySmarter is a continuous learning experience. I like that the content we're producing is available for free. I like the open culture where everyone is encouraged to bring new ideas. I like the flexibility of being able to work from home, but I still choose to go to the office because the best part of StudySmarter is the team.' – Marinell Falcon, Team Lead English Content
Additionally, our offices in the heart of Munich welcome any employee who wants to work in a more corporate-ish setting (as opposed to sitting in bed wrapped in blankets, which, too, is perfectly fine). Our offices are modern and spacious with state-of-the-art equipment, and we have plenty of chill areas when we need downtime. We also have regular meet-ups and office parties where we can get to know our colleagues. We are truly an international team with a fantastic, inclusive company culture.
Also, we just HAVE to add that your fur children are very welcome in the office! Here is one of our office doggos: Bella, whose mom is Anna, one of our wonderful talent acquisition managers.
And of course, we have remote office doggos too. Meet Alfie, who belongs to our Senior Account Manager, Sam Bailey.
What I personally love is the freedom – there is no micromanaging here. And there is no need to micromanage when the employees are happy. If you're looking for a meaningful career in finance, sales, marketing, development, or content creation, check our careers page. 😉 We also have fantastic opportunities for students!
And Yes, There Are Part-Time Startup Jobs!
In all their flexibility, startups are also very accommodating to people looking into part-time employment. They understand that certain life circumstances do not allow full-time engagement – students, new parents, people with chronic conditions, or disabled individuals. Whatever the reason may be, in your job interview, you get to negotiate your hours and your salary.
To recap: working in a startup is an excellent chance to hone your skills, work in a pleasant environment, and make an impact with what you're doing. Startups are versatile companies that offer positions in a variety of branches and capacities: finance, marketing, sales, development, or human relations. They love young and enthusiastic people and invest time and effort into keeping their employees happy. Stop your dawdling; your dream job is waiting (maybe at StudySmarter 💫).