First College Flat – Checklist This!
If you've finally convinced your folks that you can cook for yourself and know the difference between the sink and dishwasher, congrats! You've achieved what many fail to do – an early start to independence and self-reliance. You may discover along the way that socks don't wash and fold themselves, but that's a problem for another day.
When picking your first flat, you should take several things into account:
Additional details to pay attention to are: what kind of heating the flat has (gas, electricity, boilers, central, etc. – they all come with different benefits and drawbacks), whether you'll be able to get all your furniture in, pet policy, and general house rules.
Furnishing Your First Flat – Checklist of Items You Need to Have
Now, onto the more exciting part. A house is not a home without big investments and small comforts. You should always bring a few personal items to instantly make your place feel like home (pictures, posters, books, and games).
Depending on your budget, you may opt for luxurious setups or more minimalist approaches. A word of warning: You'll have to move out of your flat at some point, so I suggest taking it easy on the furnishings. There's a great deal of second-hand furniture on eBay and IKEA, too, which is quite affordable. Maybe your flatmates also have some extra dishes or items to share or give away. Don't bring a truckload of things right off the bat – it might be that you don't need half of them.
However, when you move into your first flat, you'll need a set of items that we'll, for the sake of a true university experience, call a survival kit. Once you get a job or a scholarship, you can throw money around and get more cluttery items, but in the meantime, let's cover the basics.
The Ultimate First Flat Bedroom Checklist
You'll probably be spending a lot of time in your own room. For it, you'll most definitely need:
You'll Also Need a First Flat Kitchen Checklist
After your room, the kitchen might just be the second most visited place in the house. I mean, this is where you prepare your meals, store secret stashes of ice cream, and have an occasional fight with your flatmates about who, AGAIN, has eaten the last slice of cake you had clearly labelled as yours. Such is life sometimes.
For those of you who love experimenting and cooking delicious meals, a spice rack is a must in any kitchen.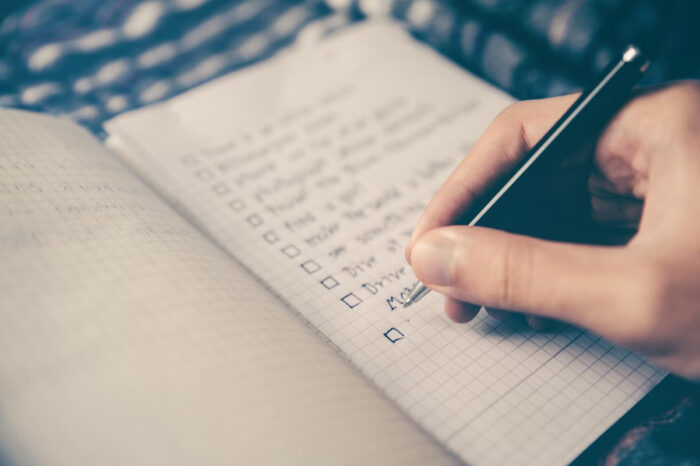 Reign in Your Spending with Our Special First Flat on a Budget Checklist
When people find their first flat, they have no idea about how many hidden costs there are – it's not just rent and basic amenities (though you might find out just how many of those there are, too!); it's also furniture, painting the walls, parking spots, and transport tickets. If you're still a student, you may wish to save up a bit beforehand. In the meantime, here are some budgeting tips to stop you from burning through your cash.
To Wrap Up on Your First Flat Essential Checklist
Getting a new place is exciting both for you and your wallet. The latter only feels that negative sort of excitement where it gets sick and has to throw lots of money up and out. Still, with some judicious saving schemes, you can furnish your flat with everything you need.
Pay attention to what you need in your bedroom and kitchen above all. In the meantime, look for a flatmate to share expenses, reduce your electricity bills, and stream less. Happy shopping!