Looking for the Best Inspirational Movies to Fit Your Needs
Now, just saying that you want the BEST inspirational movies of all time is a bit of a tall order because behind every best-and-most-inspiring-film list sits a subjective person who revels in their own tastes.
The rankings on RottenTomatoes or IMDb could be somewhat of a guideline given viewers cast a vote, but they're also not reliable enough because not all viewers actually vote, and, hey, they're just as subjective. For example, a hardcore Star Wars fan may well give the newest movie 10 stars, despite the consensus that the latest trilogy has been somewhat lacking. On the other hand, I can bet you that The Godfather has way more votes than La La Land because it has been around for so long. I'm afraid I know which one would get my 10 stars and which one had me falling asleep.
My point is, when you're looking for an inspirational movie, you should first and foremost listen to your own preferences, interests, and that niggling gut feeling telling you in which direction to go. Are you looking for movies set in Paris specifically? Or do you want ones with cuddly animal protagonists (I've got you covered for both: check out An American in Paris and Paddington!). What kind of inspiration are you looking for? An uplifting story of hardship? Or rather something highly aesthetic and quirky? (Again, I got you with Slumdog Millionaire and The Fantastic Mr. Fox.)
With all these difficulties in mind, I am going to offer a variety of choices to inspire and enlighten you.
One Inspirational Movies List for the Person Reading This Article!
Coming right up with a giant bucket of popcorn!
But, as I said, there is no one best list of all possible lists of inspirational movies, so I present several groups according to themes and availability. The movies are in no particular order, so feel free to browse according to your liking.
Inspirational Movies Based on True Stories
There is nothing more inspirational than looking at real people conquer everything that comes their way, from poverty to war and collegial adversity. The stories of these people are neither saccharine nor easily digestible. Prepare for real hardship, real lives, and real tears while watching.
12 Years A Slave (2013)
Based on the memoir of Solomon Northup from 1853, this movie tells a tale of a man conned in the street and sold into slavery in pre-Civil War America. The film follows Northup's trials and tribulations as he fights to reclaim his stolen freedom. Neither comfortable nor comforting to watch, this film still pays homage to resilience and conviction and the desire to do no wrong.
The Imitation Game (2014)
Have you ever wondered how the end of World War II actually came to be? If you think it was just bombs and weapons, you'd be incorrect! The end also came about thanks to a group of brilliant mathematicians and statisticians cracking the infamous 'Enigma Code'. This film follows Alan Turing as he waddles through cryptographic waters, the discomfort of intolerance, and his own uncompromising love for his inventions. While the film is not entirely historically accurate, it packs a punch of emotions and boasts a talented cast of colourful characters.
The Pianist (2002)
This Oscar-winning film details the life story of pianist and composer Władysław Szpilman, a Polish Jew, as he faces the Nazi invasion of Warsaw and the ensuing horrors of war. Just like The Imitation Game, this film is harrowing and morose, but Szpilman's steadfast love for his piano despite the destruction around him is truly inspiring. Bring lots of tissues and ice cream! Actor Adrien Brody and director Roman Polanski won an Oscar for best actor and best director, respectively.
Finding Neverland (2004)
So as not to be accused of bringing depression instead of inspiration, I suggest checking out the story of a life that gave us Peter Pan. Second star to the right and straight on 'til you've seen all the details of J. M. Barrie's life.
Spotlight (2016)
Ah, here we go again with serious topics. A group of journalists from the Boston Globe discovers a shattering secret as they report for the column called 'Spotlight'. Investigative journalism, intrigue, and the absolute integrity of these people busted a major historical scheme at the beginning of the 20th century. If you haven't seen this film, you have no excuses – it is a marvellous watch.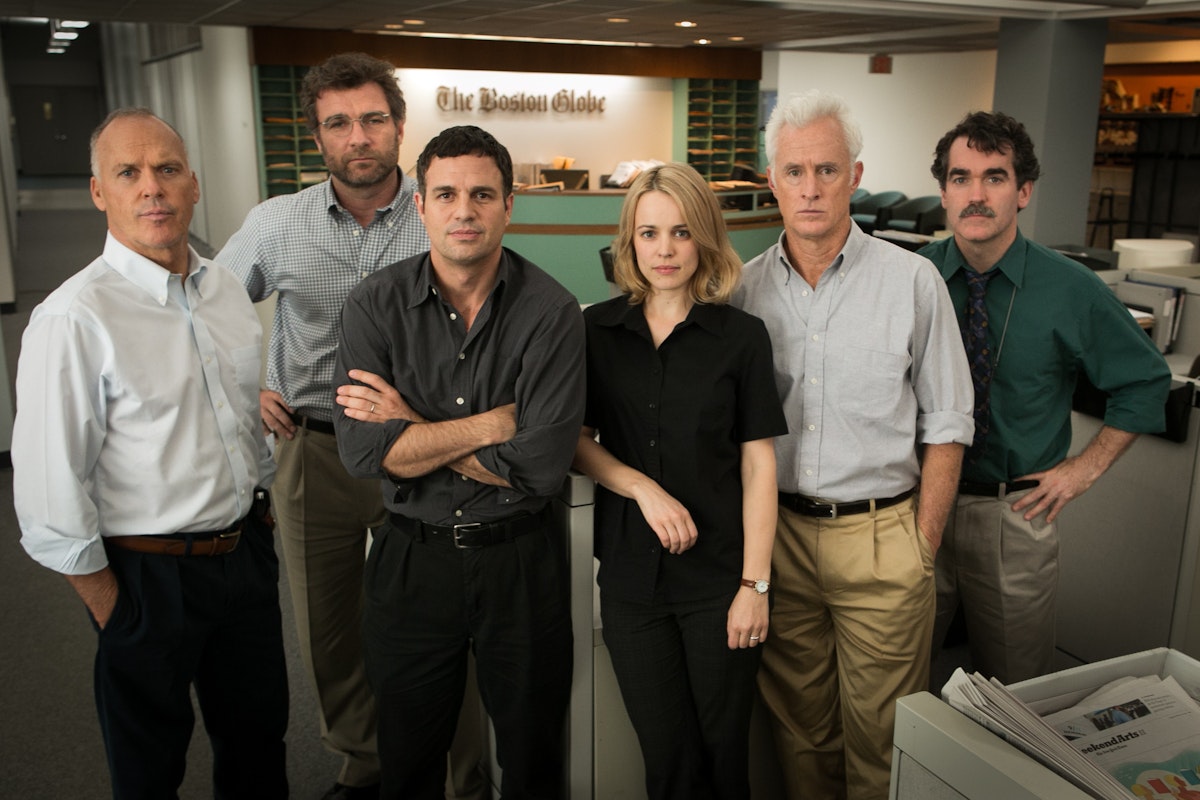 Catch Me If You Can (2002)
Well, who doesn't need a bit of young Leonardo DiCaprio in their life? This is a tale told about one of the world's biggest conmen as he takes on multiple faces, names, and masks in his attempt to fulfil his dreams and resist the pressure from his family. No, I'm not suggesting conmanship as a life path, but I do think you ought to appreciate the quick-wittedness of the protagonist and learn to think laterally in your life too.
Dallas Buyers Club (2013)
In one of the brightest spots of Matthew McConaughey's career, he stars as Texas cowboy Ron Woodroof, who is diagnosed with HIV and given a month to live. Deciding to take his salvation into his own hands, he chases alternative treatment while recruiting a band of social outcasts who, along with him, are looking for ways to rediscover their self-respect, dignity, and social status.
Hidden Figures (2016)
This is a remarkable story of three women who helped NASA send astronaut John Glenn into space. In the space race, many names remain forgotten, but this movie reveals the story of three women who were integral to the mission and treated beyond unfairness by the racist society they lived in. The spirit and willpower of these ladies are motivational and bound to push you to pursue your dreams regardless of the obstacles ahead.
Julie & Julia (2009)
Here's a heart-warming tale about the hidden magic of cooking and whipping up recipes. Meryl Streep delivers another outstanding performance as the culinary legend who inspires a rookie writer to come up with hundreds of recipes on French cuisine. There is just something wonderful in friendships spiced up with a bit of cooking and baking. Bon Appetit!
Marley and Me (2008)
Another one based on a book, this film is about … a puppy! Marley is an adorable, fluffy, yellow disaster of a puppy that gets kicked out of an obedience school and runs rampant in his new home. Still, his humans, John and Jenny Grogan, realise that this little troublemaker (aka the goodest boi) brings out the best in them.
Inspirational Sports Movies for When You Need a Bit of Action
If you've cried your eyes out or simply melted with some of the previous films, you may want to check out some of the more action-packed films revolving around the world of sports. We're slowly entering the world of fact and fiction, and not all of these are based on true stories. And yet, we can't help but love them.
Bend it Like Beckham (2002)
Has anyone ever told you that you kick like a girl? If so, I hope you kicked them in their shin just as the two protagonists (two women) kick ass in their dream of becoming professional football players. Defying parents, societal expectations, and personal problems, the women pursue their dreams in this thrilling, well-acclaimed film.
Ford v Ferrari (2019)
In this treat of a film, the early-days Ford Motor Company attempts to buy off a poor Italian car manufacturer, Ferrari, and have it compete in the 24 Hours of Le Mans (yes, they do drive for 24 hours, and tickets are currently on sale!). Ferrari refuses the offer, insulting Ford and bringing about the greatest (and pettiest) competition of all times. Both manufacturers vow to make the best car and win at Le Mans. Hard work, mechanical and engineering ingenuity, and the sheer guts of the racers are bound to keep you glued to the screen.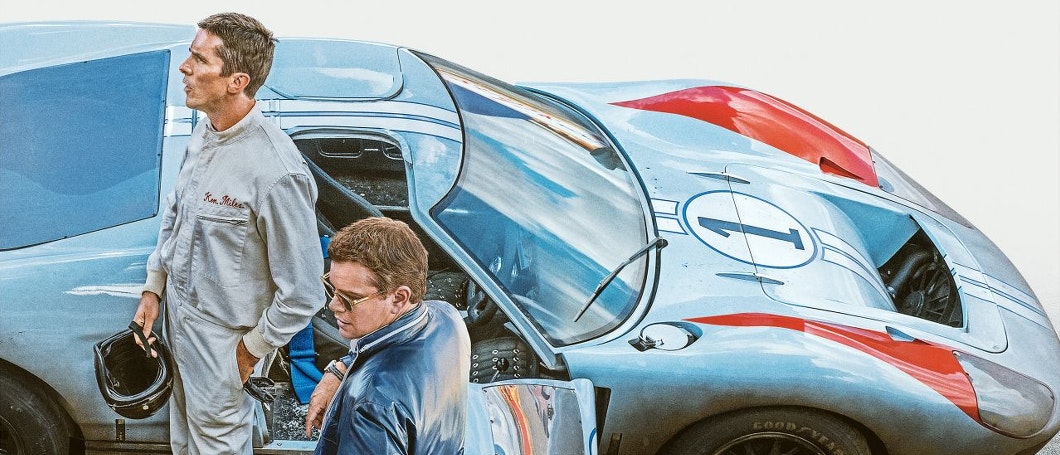 Pumping Iron (1977)
This is a careful blend between a documentary and scripted film about the golden age of bodybuilding, starring, of course, Arnold Schwarzenegger. If there ever was a man who managed to conquer anything that came his way, Schwarzenegger is that man, and he certainly marked the buff era in his youth.
The Blind Side (2009)
Based on the book The Blind Side: Evolution of a Game, an impoverished, traumatised boy becomes one of America's most famous and successful NFL players thanks to the help of a kind woman (played by the incredible Sandra Bullock) and her family. This movie will definitely get the tears flowing, but for all the right reasons in the end!
Moneyball (2011)
The older I get, the more I appreciate Brad Pitt as an actor. In this film, he is the ambitious coach trying to assemble a team of star baseball players using computer-generated analysis to recruit players on a meagre budget. What wouldn't a devoted person do to make his and the dreams of many undervalued players come true?
Bonus: Space Jam (1996)
Don't even think about bashing this wonder of the 2000s. Michael Jordan joins forces with the cast of the Looney Tunes as they face a bunch of thieving aliens in a basketball match of the millennium!
Sweet Inspiring Movies to Brighten Your Days
Sometimes you just need those delightful, sunny, sweet stories!
The Best Exotic Marigold Hotel (2011)
I can bet you've not yet seen this most underrated gem of inspirational films! This movie features an early appearance of Dev Patel as the big dreamer trying to open his own hotel in Jaipur. In this charming film of friendship, overcoming one's own prejudice, and daring to follow one's own dreams, you'll get to witness a stellar cast, including Judy Dench, Maggie Smith, and Bill Nighy, as they endeavour to visit the best exotic Marigold Hotel.
Sweet Inspirations (2019)
Four middle-aged ladies attempt to rediscover their purpose in crumbling lives and relationships. But the purpose finds them in the form of a community project: it's time to pull the proverbial bootstraps and save the women's shelter from closing by doing the only thing that can save the day – baking cupcakes. This is a charming story of strong friendship and support among women because we've all had it up to our eyes with Hollywood showing women as being nasty and vicious to one another!
Begin Again (2013)
Mark Ruffalo and Keira Knightley are looking for a new beginning, and it just so happens that recording an indie rock album is the way to go. He is a failed music producer with an even more failed marriage behind him, and she is straight out of a failed relationship – see where I'm going with all this failure? Passion for a dream and dedication to the cause these two show in the movie are sure to get your fingers itching for a guitar and pursuing your artistic dreams.
Soul (2019)
What happens when you have to compromise dreams for a sustainable lifestyle? Usually sadness, but Joe, the hero of this Disney beauty, has the chance to shake it all up and look at where his life is heading and how many small moments he has missed because he wasn't paying attention. Soul teaches us not to give up on our deep purpose and love the life we have before it flutters away. (PS I cannot believe it took me this long to include a cartoon in here!)
Mamma Mia! (2008)
Ah, the guilty pleasure of all guilty pleasures. It's Meryl Streep again, this time as an absolutely charming woman who may have had one too many drinks and casual relationships in the past – one of which landed her with a daughter. Who's the father? Nobody knows! But, as her daughter's wedding day approaches, the three main suspects reappear in her life, all singing ABBA hits and trying to solve the mystery. Apart from the uplifting tunes we all carry deep in our souls, Mamma Mia! is about accepting who you are and staying true to yourself at all times.
A Bonus List for Budget Viewing – Inspirational Movies on Netflix
There's hardly anyone who can afford every single streaming service subscription, but chances are, you have invested in a basic Netflix account. Check out some of these inspiring movies on the popular streaming app:
Lion (2016) – An Indian boy faces numerous hardships as he tries to find his way home after getting lost in Calcutta.
Pay it Forward (2000) – When someone does you a favour, don't return it. Rather pay it forward to someone else as the protagonists of this film do.
I Am Kalam (2010) – An unexpected friendship between a poor boy and a royal heir shows the endless resilience of the human spirit.
Bowie – The Man Who Changed the World (2016) – The biopic of David Robert Jones and his journey to the musical legend we know as David Bowie.
Step Up! (2006) – If ever there was a film that made me want to get into street dancing, it was this one. A Romeo and Juliet take on different dancing styles filled with passion and devotion and some excellent beats.
Bohemian Rhapsody (2018) – It's the story of Freddie Mercury and Queen. Need I say more?! Enjoy the final scene where Oscar-winning Rami Malek imitates Freddie's famous performance at Live Aid 1985 perfectly.
Bonus: Jiro Dreams of Sushi (2011) – Watch this 84-year-old sushi master hone his craft and rock this soulful film.
Bonus of the bonus: The Midnight Diner: Tokyo Stories (2016) – I am cheating here because it's a mini-series, but it's full of lovely tales, excellent recipes, and the most diverse characters you could think of.
Who Needs the Greatest Inspirational Movies of All Time?
Seriously, it's a bit of a wild-goose chase to try and figure out what THE greatest inspirational films for dull times are. Still, I think I've provided you with a few agreeable choices to push you through any standstill you may be facing and to give you those warm, fuzzy feelings as you settle into a quiet evening.
With that said, I wish you a pleasant viewing!
Oh, and to add one of my personal favourites on Netflix: The Princess Switch – because it's never too early for charming Christmas movies!
Image sources: