GCSE Mock Exams
Yes, these are the exams taken before your GCSE exams. They cover the same topics as the actual GCSE exams and offer students a chance to familiarise themselves with the exam format, timing, and style of questions.
Typically, they take place in Year 11 in December or January, a few months before the actual GCSE exams, which are taken in May or June.
But these are not the first mock exams you can take to prepare for the GCSEs. There is a first round of GSCE mock exams at the end of year 10, around June/ July.
A-Level Mock Exams
As if the GCSE mock exams weren't enough! You will face A-level mock exams before you take your actual A-level exams.
Like GCSEs, you'll have two rounds of A-level mock exams. Generally, the first happens in the summer month of Year 12. There may be an optional mock exam around Christmas in the same year.
The second round, the Year 13 mock exam, is the most significant A-Level mock exam. It takes place around Christmas, either before or after the winter break. These are the final assessments before your actual A-Levels. With these mock exams, you know what topics you have to revise and whether your time management works. Taking them seriously can lead to better outcomes on your actual exams.
Dates may differ from school to school, so ask your teachers for specific exam dates in your school, both mock and actual ones.
Mock Exams Timetable
For a better overview, here is a table with the dates of the mock exams for GCSEs and A-Levels. There are no set dates for the exams in 2023, as each school gets to choose when they want to hold them.
| | |
| --- | --- |
| Year 10 | Summer, usually June or July |
| Year 11 | Usually in December |
| Year 12 | Summer, June or July |
| Year 13 | December or January |
Are Mock Exams important?
Yes, mock exams are important – I can't stress it enough. Even if they don't count towards your final grade, mock exams offer invaluable insights. Here's why:
Identify your strengths. Mock exams highlight the topics you are already strong in. Use this to your advantage – you won't need to invest as much time revising these areas. However, don't neglect them entirely; review them regularly!
Identify your weaknesses too. Mock exams can also help you identify the topics that you need to work on – but don't despair. This is a positive! Because these aren't real exams, you now know what topics need more attention and further revision. It's a perfect tool for optimising your exam prep.
Beneficial for teachers. Looking at your results, your teachers can determine which topics are challenging for the class. In the months before the real exam, they can offer more support in those topics.
Test your learning strategy. Hopefully, you have a study plan for all your exams. It's the perfect time to test its effectiveness. Based on your mock exam results, you can work out if your strategy is any good or if you need to adjust it and come up with a more effective exam prep.
Mock exams predict grades. Even if the grades from the mock exams don't count towards the final grades, they give you an insight into your current performance. Especially for year 13 students, the predicted notes can be helpful when you are applying to colleges or universities, as they can give you an idea of your chances of being accepted.
Simulating the real exam. This means you get a realistic experience of the actual exams without actually sitting them yet. This definitely helps with getting used to the exam format and the time constraints, and helps combat test anxiety.
You learn how to manage time during the exam. Time turners don't exist (I think?), so you can't turn back time to do better in your actual exams. But you can take mock exams instead. They help you practice time management skills, which will help you stay on track during the real exam.
Boost your confidence. Sounds odd, but mock exams can boost your confidence. Understanding time management, the quantity and format of questions, and the amount of concentration needed can help calm your nerves before the actual exams.
Valuable feedback. The whole mock exam experience provides comprehensive feedback on topics, time management, confidence, and more. All this feedback helps you refine your study plan and make the most of your remaining preparation time.
Mock Exam Revision: 7 Steps to Success
Mock exams are an excellent opportunity to practice your skills and get a feel for the real thing. By following these steps, you can make the most of your mock exams and improve your chances of success on the real thing.x
Step 1: Mark your mock exam dates in your calendar. Our brains and short memories are better at remembering things when they're written down. They aren't built for stuff like imaginary calendars! Mark the dates on your phone or a physical calendar, and don't forget the actual exam dates as well. This might seem basic, but it's essential, trust me! When every little thing can stress you out, this prep trick will help you stay on track and avoid forgetting about the exams.
Step 2: Know the topics you have to revise. Make a list of all the topics that could be covered on the exam. You can find this information in your syllabus or by talking to your teacher.
Step 3: Make a study plan. Now that you have your list of topics, use it to create a realistic study plan. Decide how much time you need to spend studying for each topic. Be realistic about your time commitment and don't try to cram too much information into too short a period. For more advice, check out this article. The StudySmarter app also offers features to assist you in creating a plan.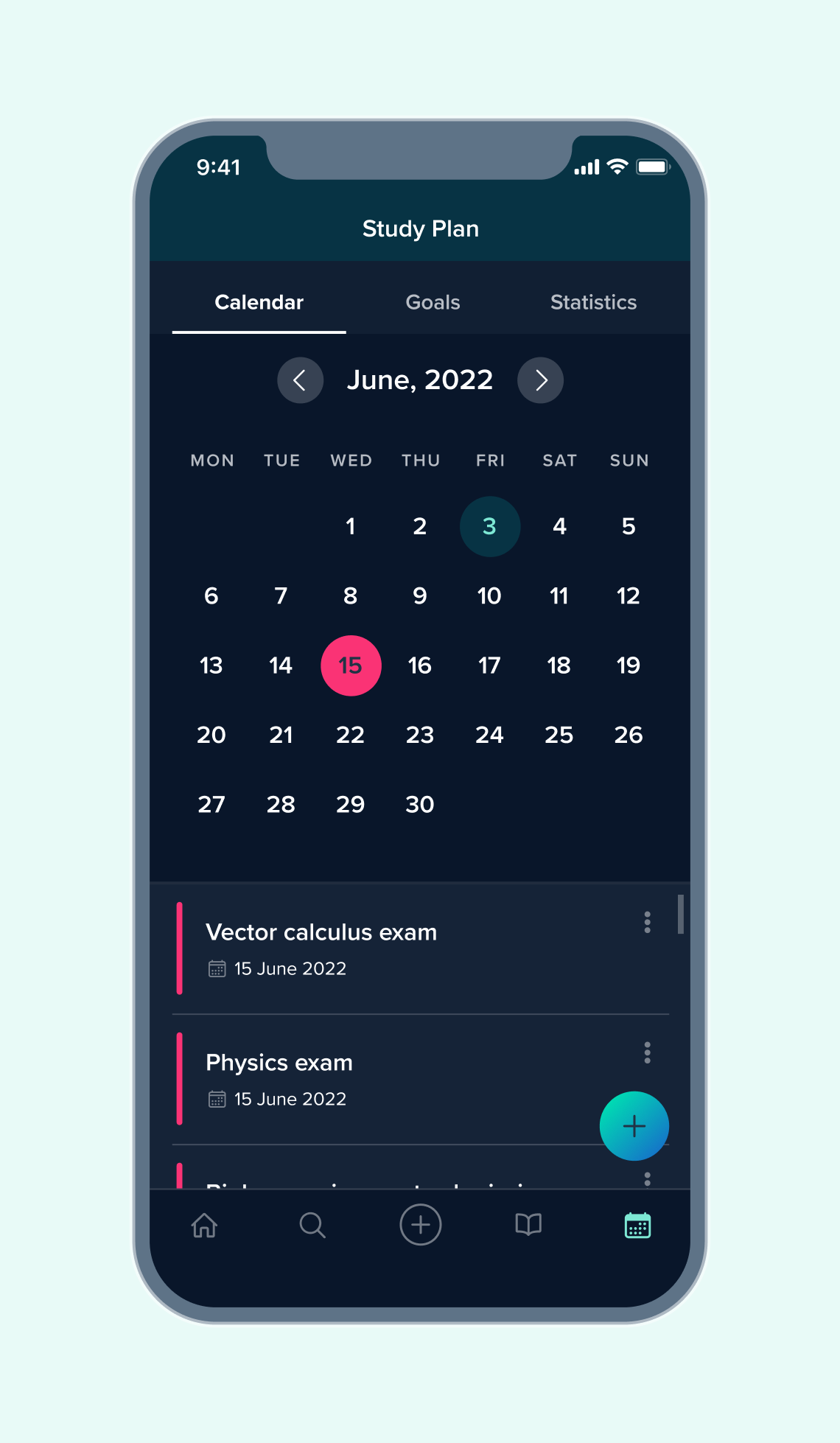 Step 4: Take breaks. A sensible study plan should include breaks. These are essential for your success, as a rested body and mind retain information much more effectively. Breaks will help you avoid burnout too.
Step 5: Enough sleep and a healthy diet. It's not just about studying; sleep, diet, and consistency are equally important. Pay attention to your sleep hygiene and ensure you are sleeping enough. Try to maintain a balanced diet with plenty of vegetables, fruits, carbohydrates and proteins to fuel your brain with all the good stuff. Consistency is also a key element in being successful. Try to learn a bit every day, rather than cramming long sessions over the weekends.
Step 6: Don't sacrifice your weekends. For your own happiness and well-being, remember to maintain a social life and take breaks on the weekend. Don't spend your entire weekends on long, exhausting, and ineffective learning sessions. If you must study, limit it to around 8 – 12 hours of learning over the whole weekend, leaving the rest of the time to enjoy with family and friends.
Step 7: Find balance. It's important to find a balance between school, learning, hobbies, family, and friends. This will help you stay sane, mentally healthy, and productive.
Mock Exam Preparation with StudySmarter
Study Smarter is your next best study app, helping you with your prep for your mock and actual exams. Still with me? Let's explore why.
The StudySmarter App is completely free
Voted number 1 learning app, StudySmarter is free to use on almost all your devices. It holds thousands of explanations on different topics, you can browse or create flashcards, a study plan, take mock exams and much more. Get it now for iOS and Android devices, or simply sign up using the web platform.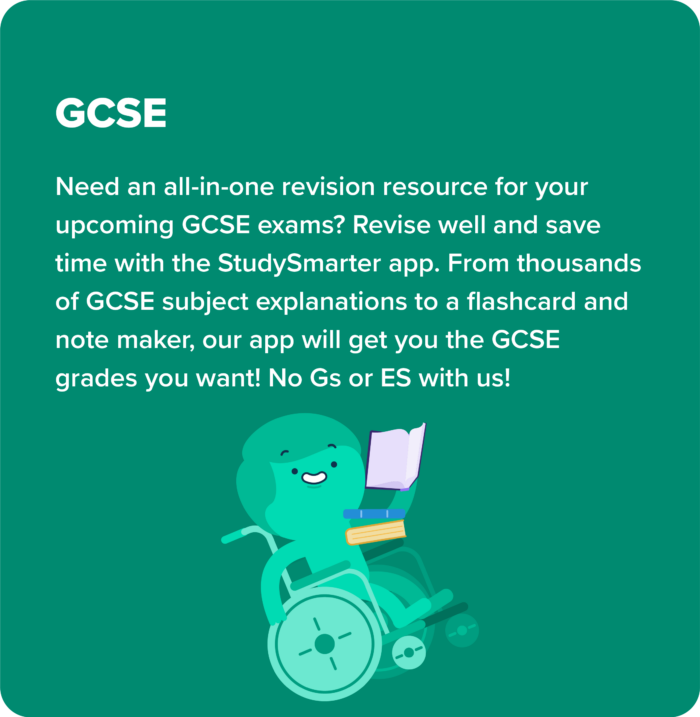 Mock Exams with the StudySmarter AI
StudySmarter offers mock exams to help you prepare for real exams with the help of the newest feature – StudySmarter AI. Want a personalised mock exam? The StudySmarter AI has got you covered! Plus, it will provide feedback on your answers! Try it today, it's fantastic!
Explanations on all topics covered in your mocks
The app holds thousands of explanations on all your subjects, whether it is maths, physics, biology, history, politics or English literature.
Flashcards
Have you ever tried revising for your exams using flashcards? Flashcards are an excellent, easy and effective way of retaining a significant amount of knowledge. That's why we love them. You can easily create your own or ask the StudySmarter AI for help.
Bonus: Every one of our original explanations comes with ready-made flashcards!
Personalised study plan
Study plan creation is my favourite feature because I am a huge fan of to-do lists and plans. The statistics tab is very helpful and shows you an overview of your study sets, flashcards and hours. You can set goals such as how many hours you want to study for, how many days, and much more.
And with that said: I wish you good riddance and good luck with all your exams!