This post may contain affiliate links. When you buy through links on our site, we may earn a small commission at no additional cost to you. StudySmarter aims to support independent bookshops.
So, What is Women's Fiction?
Well, while it might be obvious what women's fiction is, here's a quick breakdown:
Women's fiction (or even mortifyingly, some books are characterised as chick lit) is actually an umbrella term for any fictional book that focuses on a woman's (but sometimes a man's) life experience, particularly her emotional journey (BUT the protagonist doesn't necessarily need to be a woman). They are women-centric and are targeted at female readers, although I encourage EVERYONE to read these books! And don't get confused between women's fiction and women's writing: women's writing is any work written by a woman, whereas women's fiction can – and is often – written by men. HOWEVER, and important to note, women's fiction is more about the EMOTIONAL journey of the protagonist and less about the protagonist's sex. So, if the protagonist is a man undergoing an emotional journey, technically, this could be categorised as women's fiction, too (and you can see why this is also controversial – women's fiction is targeted at women, implying that it is mainly only women who want to read such books about emotional journeys and the bond between families, sisters, friends, etc.).
Now, I want to highlight that many critics view women's fiction (as a term and what it represents) as problematic. Firstly, there is no accompanying men's genre (i.e. you're not going to find a specific section dedicated to men's fiction because throughout history, fiction has been by and large written by men and has been predominantly male-centric). Secondly, a lot of women's fiction books represent women in a problematic way – i.e. in the sense that they must behave respectably, be virtuous, be a mother, provide emotional support to their friends and family, or 'fix' something about themselves to find a man or find the joy in being a homemaker (in other words, upholding stereotypes that society – ahem, the patriarchy – has of women). This means there is little room for REALISTIC women, and many of these books, more historically, simply uphold gender norms and gender binaries. (PS For a good laugh (or cry) at how problematic men trying to write a women's experience is, please check out the menwritingwomen sub on Reddit!)
Thankfully, new writers are slowly but surely evolving the genre to depict women, or those who identify as women, as HUMANS in all their complexity. The genre is evolving to a point where there is a call to change the name, with author Lidika Hilje saying that emotional, relationship, or adult-coming-of-age fiction would be much more suitable and appropriate. So, women's fiction of today is more about making MORE things possible for a woman – i.e. she doesn't HAVE to be a mother if she doesn't want to, she can hate suburban life with a white picket fence, and she can dedicate her life to her career instead of a man. Also, women's fiction can focus on women's rights, so any books dealing with this can be classified as women's writing, too.
Contemporary Women's Fiction
Contemporary women's fiction is a sub-genre of women's fiction. Here is a definition and example from our StudySmarter explanation on Women's Fiction (PS, these explanations, written by our subject-matter experts, are for FREE in the StudySmarter app!):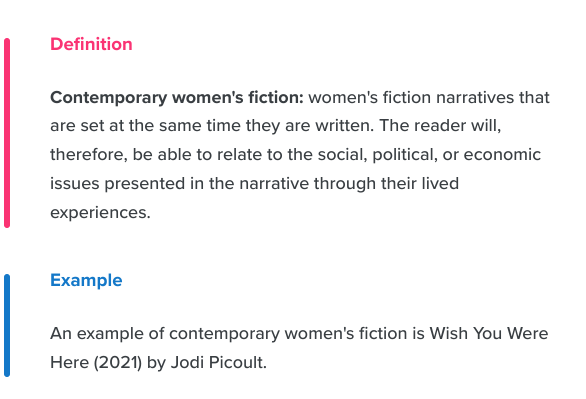 Women's Fiction Prize
So, there isn't a 'Women's Fiction' Prize but rather a 'Women's Prize for Fiction'. The Women's Prize for Fiction is a highly-esteemed annual award recognising fiction written by women. The nominee can be of any nationality, and their work must be written in English and published in the UK. Last year's winner was Susanna Clarke for her novel Piranesi, which is an incredible novel that can be analysed through the COVID-19 lens (the return to real life after those crazy lockdowns).
Influential Women's Fiction Writers
There are obviously too many women's fiction writers to list, so I'll go for the more popular/influential ones. First up would be the iconic Jane Austen. Just think of Pride and Prejudice and Austen's focus on Elizabeth Bennet. And keeping within a similar time frame, we've got the Brontë sisters. Then, more recently, there's Chimamanda Ngozi Adichie (an award-winning author born in Nigeria who writes about race, Nigerian politics, and feminism), Margaret Atwood (how can you not know her from The Handmaid's Tale?!), Taylor Jenkins Reid (a very popular contemporary women's fiction author), Jodi Picoult, Jojo Moyes (the creator of the tear-jerking Me Before You), Danielle Steele, and (you might've guessed it already), Nicholas Sparks, whom we have to thank for those uber-romantic films like The Notebook, A Walk to Remember, and The Last Song.
10 Best Women's Fiction Books
OK, this list is obviously super subjective 😉, but we've (I) chosen some of the most influential women's fiction books (or, in other words, books you should definitely read!).
With so many film adaptations (especially the more famous one with Keira Knightley), it'd be a surprise if you didn't have some vague idea of what Pride and Prejudice is about (even if you're not a fan of reading!). But perhaps you didn't know that Austen's famous novel is an excellent example of women's fiction.
Following the journey of Elizabeth Bennet, Pride and Prejudice is a social commentary (of the time) on women being expected (and pressured) to marry, especially at a young age. Elizabeth has very cynical views on the matter and stands in stark contrast to her more frivolous, wanting-to-marry-asap sisters (in fact, if you're a fan of Bridgerton, the character Eloise is very much like Elizabeth).
I'm sure I don't need to tell you the outcome of the book, but suffice to say, Elizabeth needs to overcome her own prejudices (especially against Mr Darcy), and the book is a good example of how women's fiction explores the emotional journey and growth of a woman (and man – Mr Darcy grows as a person, too), as well as the complexity of romantic relationships (in this case, Darcy and Elizabeth going from hostile acquaintances to loving each other). Again, the more I think about it, Bridgerton seems to have borrowed A LOT from Jane Austen – the characters of Kate Sharma and Lord Bridgerton follow a similar path to that of Darcy and Elizabeth.
* Another of Austen's books to read in this genre is Sense and Sensibility.
Jane Eyre by Charlotte Brontë
As we mentioned above, women's writing and women's fiction are not mutually exclusive. Jane Eyre (like Pride and Prejudice) can be viewed through a feminist lens to some extent, with Jane, as an orphan, representing a strong, independent, willful, and intelligent woman who undergoes many trials and tribulations before she finds love.
What I personally appreciate about Jane Eyre isn't even about Jane – it's about the 'mad woman in the attic', which has led to the creation of brilliant texts like The Wide Sargasso Sea, which attempt to re-write and give voice to this mysterious and supposedly mad woman.
Find out who this mad woman is and see how Jane overcomes her hardships in this classic.
Extra read: Wuthering Heights by Emily Brontë.
Ah, how I LOVE Margaret Atwood and her brilliant mind. If you're not keen on reading the books (although you SHOULD), I would highly recommend watching The Handmaid's Tale (starring Elisabeth Moss, Alexis Bledel, and Joseph Fiennes) and Alias Grace (The Handmaid's Tale is currently on season four, and Alias Grace is a limited series on Netflix).
The Handmaid's Tale is truly a work of literary genius. I don't want to spoil anything if you haven't discovered this gem yet but think about a dystopian world where women are controlled by men and a tyrannical government uses religion to advance their agenda (oh wait, it sounds like the world we live in today …). From being concubines to not being allowed to read or speak to having to give away their children, The Handmaid's Tale is both dark and illuminating, haunting and captivating. An absolute MUST read.
Then there's Alias Grace, a work of historical women's fiction. The story is based on the notorious 1843 murders of Thomas Kinnear and his housekeeper Nancy Montgomery in Canada. Their servants, Grace Marks and James McDermott, were found guilty of the crime. The book is heavily fictionalised and follows Grace's story, from her troubled childhood until her time working as a servant in the McDermott household. Get into the mind of Grace in this truly twisted and enthralling tale (you've even got an obsessed psychiatrist and insinuations of dissociative identity disorder … shew!).
The Help by Kathryn Stockett
The Help is an extraordinary book – I have read it a few times. There's a brilliant movie, too, based on the book starring the ICONIC Violas Davis, Emma Stone, and Octavia Spencer.
The novel follows the stories of African American women working (more like slaving away) for white households in Jackson, Mississippi, in the 1960s – a tumultuous time politically and socially in the USA. Then there's also the story of Eugenia' Skeeter' Phelan, the daughter of a wealthy white family who grows up on a former plantation.
After wondering about the disappearance of Constantine, Skeeter's African American maid whom she grew up with, Skeeter comes to work on a writing project, giving voice to the deplorable conditions some of the African American maids (i.e. the help) are subjected to in the racist South.
But … writing a book at such a turbulent time is extremely dangerous, and the maids don't trust Skeeter. So, what happens? Will Skeeter gain their trust? Will they all get into trouble? And what about that pie made of one maid's sh*t 😉? Guess you'll have to find out!
Extra recommendation: I did my Honour's dissertation by comparing The Help with Gone With the Wind (published in 1936!) by Margaret Mitchell, which is set in Georgia, Atlanta, during the American Civil War and its aftermath. The book is described as a coming-of-age story, with the protagonist, Scarlett, trying to overcome poverty. Whether you like Scarlett or not … that's a tricky one!
This one is definitely a tear-jerker about 13-year-old Anna Fitzgerald, who was born as a 'saviour sister' – her older sister, Kate, is dying from leukaemia, and Anna was conceived for the sole purpose of trying to save her sister by donating her blood and other organs Kate needs.
Anna eventually decides to seek medical emancipation – and has to go against her mother in court. See what happens to Anna, whether her mother can forgive her, and if Kate gets the life-saving kidney she needs from Anna …
* Or any other book by Jodi!
For another tear-jerker, read Jojo Moyes' Me Before You, which details Lou Clark's journey to accepting that the love of her life wants to end his life …
This is an interesting read because it's inspired by Kentucky's real-life 'blue' people and the Kentucky Pack Horse Library service during the 1930s.
In this novel, protagonist Cussy Mary, who is treated as an outcast because of the blue colour of her skin, dedicates her life to bringing books to people – even those living far away from Troublesome Creek. Follow her (oftentimes treacherous) journey as a librarian, how she deals with being shunned by society, and what happens when someone she is close to leaves her in the care of her newborn child.
It's an inspirational story, but I enjoyed it for its exploration of the forgotten blue people of Kentucky.
Hmmm … so I have a love-hate relationship with this book! (PS There is a 2022 movie adaption featuring a song by the ultimate Taylor Swift 😉.) It is beautifully written with an intriguing plot, but the ending … er, you'll have to find out whether you loathe it or like it.
Where the Crawdads Sing tells the story of the 'Marsh Girl' Kya, who grows up in difficult circumstances. Her mother abandons her, her father is violent, and she is shunned by society. She learns to live off the land, having minimal interaction with people. Until she meets Chase, and everything starts to unravel …
Classified as a coming-of-age murder mystery, the novel is a gripping read, albeit slightly unrealistic. Although I do like the portrayal of Kya as a fierce, independent, and highly intelligent female character (except for the end).
Ah, what a classic! And you're probably more familiar with the chick-flick films starring Renée Zellweger. But perhaps you didn't know that Bridget Jones is a parody/reframing of Pride and Prejudice in a more postmodern, satirical way. And the cool thing about this is it shows how much of an impact Jane Austen had as one of the first women writers to write about women more realistically.
Here's a fun article for you to check out – it's a game you can play to catch all the Jane Austen references while watching the Bridget Jones' films!
I won't go into too much detail about the book series, but it's a good, enjoyable take on a real woman with bad habits who is unlucky in love. And yeah sure, there is that women-fiction-genre nonsense of Bridget trying to lose weight and find love, but hey, that's REAL life, and it's a pretty accurate portrayal of society's obsession that women should be thin and attractive to secure a man's affections.
Made oh-so-popular by the Netflix series (and the handsome Bridgerton brothers and the Duke of Hastings), the Bridgerton series of books follows the eight Bridgerton siblings on their quest for love, adventure, and fulfilment of their dreams. I haven't read the books (yet), but I like that in the series, we see both male and female perspectives and the gender-conforming roles they were expected to adhere to back then in Regency England. For example, Anthony Bridgerton must fulfil his duty as Lord Bridgerton after his father passes – to the point that he will deny his true love for Kate Sharma to marry a suitable match. Then there's the whole 'a woman can't be seen alone with a man before she's married' spiel, and Daphne Bridgerton, who although intelligent and witty, adheres to the standard lady-like qualities expected of her.
But my favourite character by far is Eloise Bridgerton, who, as I mentioned above, is similar to Elizabeth Bennet. She is fiercely independent, scoffs at society, isn't necessarily interested in finding a man, and wants to pursue her education further. Oh, and of course, how can I NOT mention Lady Whistledown – total badass.
'You have no idea what it is to be a woman, what it might feel like to have one's entire life reduced to a single moment.' – Daphne

'Having a nice face and pleasant hair is not an accomplishment.' – Eloise
You can find the other books of the series and all other books of this article in this list.
Americanah by Chimamanda Ngozi Adichie
This award-winning novel is about Ifemelu, a young Nigerian woman who moves to the US for university studies. But even more so, it's a love story between Ifemelu and Obinze who fall in love during a tumultuous time in Nigeria. After leaving behind her life and love in Nigeria, Ifemelu encounters, for the first time, racism and the many faces racism wears.
Obinze tries to move to the US too, but against the backdrop of the 9/11 attacks, his VISA is denied, eventually leading him to a life as an undocumented immigrant in London.
Discover what becomes of Ifemelu and Obinze, their relationship, and how they navigate and deal with racism. This book is a powerful exploration of what it means to be a 'Black person' – a definite must-read, especially in light of the Black Lives Matter movement and police brutality against persons of colour in the US.
Other Recommendations
And some other books we can't leave out!
Honourary mention to Firefly Lane by Kristin Hannah (there's a fantastic Netflix series too), which follows the close friendship (and all the complexities that it entails) of two women – one super uncool, the other super popular – as they grow up together and navigate work, love, family, and … a love for the same man.
Also, some of the recently most read women's fiction on GoodReads include The Brighter the Light by Mary Ellen Taylor, Nora Goes Off Script by Annabel Monaghan, She's Up to No Good by Sara Goodman Confino, and Secrets at the Last House Before the Sea by Liz Eeles.
Don't feel like reading? Listen to those books on Audible.
Top 5 Women's Fiction Books
Well, there we have it! I know that I have added some books to my collection from this list – so I hope you have too! Keep in mind that the books I've mentioned are different in terms of what I'd call their 'literary prowess'. For example, some books are meant to be light, easy reads, while others are powerful works of literature that may even challenge your belief systems!
To end, here are my top 5 picks from this list if all this was TL;DR for you:
The Handmaid's Tale
The Help
Americanah
The Outlander series
Me Before You (for a light but heartbreaking read!)
Time to cosy up with a good book and enjoy!