Is the Chegg Study App an Eggcellent Choice?
Sorry, I couldn't help it with the heading 🥹. I must admit that upon a first glance of Chegg, I was pretty impressed, and there is a lot on offer (although I hope you like the colour orange because it's everywhere!). The company was founded over 15 years ago, so it has had time to expand its product offering. Here are some of Chegg's main products and services:
Chegg Study Help
Included in its Study Help offering, you'll find homework help, test and exam prep, help from experts, and even proofreading services for your assignments.
Homework Help and Expert Support
Chegg is great if you're studying maths because it offers step-by-step maths support. If you head over to the Math Solver, you can enter your problem (no matter how complex it is) and get a detailed explanation of the answer in steps. You can also take a photo of your problem instead of entering it in the solver bar. You have to pay for the Math Solver per month (about £8) for detailed explanations, but you can opt for the free version, which gives you three solutions per day with only a basic explanation of your problem.
If you don't have a tutor, Chegg will fill in for you! If you're struggling with a question, you can snap a photo of it and send it to a Chegg expert, who'll answer it for you (with explanations). You also have the option to scan the Chegg library for similar problems and solutions so that you can figure it out on your own.
Test Prep
Chegg offers you expert-created mock exams for you to practise. The questions are tailored to your course, so it's important that when you sign up for Chegg, you enter the courses you're taking (you can even add your university).
Textbook Solutions
We all know textbooks can be notorious for their complexity and lack of explanations for problems. I've had countless Maths textbooks that only gave answers, which is the most unhelpful thing, like ever. Chegg's textbook solutions offering gives the answers to select textbook problems with guided video walkthroughs and step-by-step explanations. They currently have over 34,000 textbooks in their system!
Explanations
From what I can tell, you can access explanations for free on Chegg's website. The explanations are brief and come with questions and answers, and there are also video explanations. For example, if you click on the 'Exponential Equations' explanation, you'll get a basic explanation of what exponential equations are, plus tutorial videos related to Algebra in general (I checked out some videos, and they are very good).
There are other explanations that are more in-depth. For example, I checked out 'Property Rights' in Economics, and the explanation includes a definition, overview, types of property rights, and their pros and cons.
What's important to note here is that Chegg seems to focus mainly on STEM (science, technology, engineering, maths) subjects, so you'll only get course content for the following:
Biology (including Biochemistry, Immunology, General Biology, and Zoology)
Business (including Finance, Economics, and Accounting)
Engineering
Maths (most Maths topics)
Science (Physics and Chemistry)
Psychology
Chegg Flashcards
Chegg offers a massive repository of flashcards with over 500 million of them. And if you still can't find what you're looking for, you can always create your own flashcards! From what I can tell, you can create your own flashcards for free and make them visible to everyone, but you do need to create an account first. The flashcard creation is pretty basic – you can bold, underline, and italicise, as well as add bullet points or images. Their flashcard offering is way more diverse than their course offering, and you can find flashcards on about 80 subjects.
When you practice the flashcards, you can view them as multiple choice questions, view them back to front, or view them in their original order (or random).
Chegg eBooks
With Chegg's reader (you can download it on Android or iOS), you can find over 400,000 textbooks. In addition to the subjects we mentioned above, you can also find textbooks on Art, History, Law, Literature, and Political and Social Science.
Chegg Editing
If you're looking for support with your writing, Chegg offers this too. There's a plagiarism checker (it looks pretty solid), an essay checker, a grammar checker, and proofreading services. Then you also have citation generators for different style manuals, including MLA, APA, Harvard, and Chicago. Chegg offers a lot of information on how to cite and reference correctly, and the citation generator is super nifty (I would highly recommend it)!
Cheque, Please: Chegg Free Account
So while Chegg may offer all these awesome products and services, barely any of them are for free. You can create a free account and download the Chegg mobile app (for Android and iOS) for free, but that's almost as far as it goes. It looks like you can access their explanations for free (and without an account) as well as some flashcards and the citation generator, but if you want to do anything more, you'll need to sign up and spend some moola.
Chegg Study Cost
Monthly plans start at around £12 per month, and you can cancel anytime (but I have read reviews that say cancelling can be difficult, so be careful). The Math Solver has its own price (£8) if that's all you want to access. The Chegg Study Pack is about £16, and this includes everything (Chegg Study, Chegg Math Solver, and Chegg Writing).
Eggscuse Me, But What about a Free Study App?
I'm glad you asked! Because this is where StudySmarter comes in! Unlike Chegg, the StudySmarter app (web and mobile) is COMPLETELY free – all of our explanations, study sets, flashcards, study plan, note-taking tool, and textbook solutions are free. You just need to create your account, tell us a bit about you so that we can create a tailored study plan for you, and voila – you'll officially be a smarter student 🤓.
We've got a few posts dedicated to our app and how it works, so we won't repeat ourselves. You can check these posts out here:
User Experience
Overall, I'd say we have a much better user interface and user experience, and our mobile app offers a lot more than Chegg's. Our blue and green colour theme (if we base this on the psychology of colours) is also meant to be calming and relaxing, which is what you need when you're stressed with your studies. I also find navigating the web and mobile apps much easier than Chegg.
And regarding our study sets (which you can access or create), you'll have everything stored in one place (notes, summaries, explanations, and flashcards) so that you don't need to search for your notes in a sea of chaos or forget where you've put them.
Test Prep
When you search Chegg, you'll notice that it doesn't explicitly state what curricula it follows regarding exam prep. Because it's an American company, I'm assuming its exams are aimed at the SATs, AP levels, etc. With StudySmarter, you'll have access to exam prep for both the US and UK curricula. We help you prepare for the ACTs, SATs, AP syllabus, A Levels, and GCSEs, and we offer explanations, flashcards, and quizzes to help you test your knowledge of your subjects.
Explanations
Our explanations are created and quality checked by subject matter experts. And each explanation belongs to a study set that comes with FAQs and flashcards. We offer more subjects than Chegg, including:
Biology
Business Studies
Chemistry
Economics
English
English Literature
Geography
History
Maths
Physics
Politics
Psychology
Social Studies
Oh, and you can create your own study sets and share them with the StudySmarter community, too! This makes your learning more interactive and collaborative, and you're helping out fellow students, which is a win-win in our eyes! Knowledge shared is always knowledge gained!
StudySmarter's Flashcards
Our flashcards feature is something we're really proud of. With our flashcards (you can browse millions created by other students or create your own), you can assess how confident you are with each one, and we'll always show you the most relevant flashcards based on your answers to help you learn more effectively. Plus, if you want to create your own flashcards, you'll have a lot more creative freedom – we have tons of formatting tools, including the ability to draw freehand, change the background colour, and insert equations. You can also import flashcards you may have elsewhere (such as with Quizlet), and you can add hints to your flashcards, too!
Notes, Summaries, and Study Plans
Sure, Chegg may offer some cool editing features and ebooks, but what Chegg lacks, we make up for! When you upload your study materials via our web browser, you can effortlessly create notes and summaries from them with our highlighting tool. You can also automatically generate flashcards with the highlighting tool.
We also have a post dedicated to the StudySmarter Study Plan, so you can read more about it here. But if you need a buddy to hold you accountable, we've got your back! Get reminders to study, set focus timers, and track your progress with your own personalised analytics dashboard.
Chegg vs StudySmarter: Summary
Here is a table highlighting the biggest differences between Chegg and StudySmarter.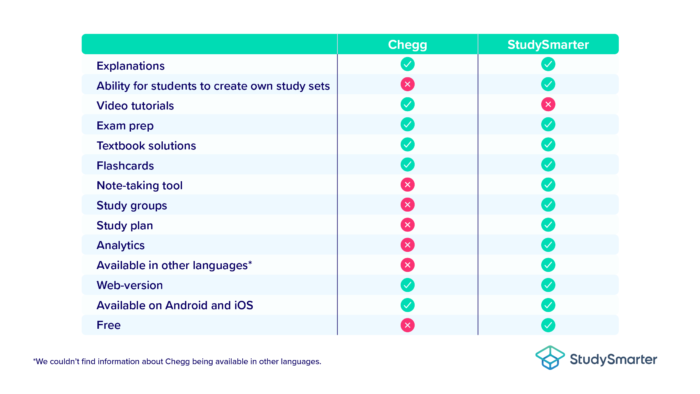 Ratings
OK, so app store reviews speak a thousand words (literally), and it looks like Chegg doesn't have the best reviews. On the Google Play Store, Chegg has a rating of 3.3 stars, but I saw a lot of one-star reviews. Students have complained that often, the answers from the experts are incorrect and that the overall experience is buggy and filled with spam or bots. There are issues with accessing Chegg on different devices (also, there is a device limit). I would suggest reading the reviews before making a decision to use Chegg. People have also complained that it's either too expensive or not worth the money and that it can be difficult to cancel your subscription.
And I'm genuinely not picking the worst reviews from Chegg and the best reviews from StudySmarter – the reviews really do speak for themselves! We currently have a 4.4-star rating on Google Play, and most of our reviews are four or five stars. You can also access StudySmarter on all devices, so you won't be seeing any reviews about not being able to access our app on multiple devices!
Get Eggcited about Learning!
Sorry for all the ch-egg puns, but I had to! Anyways, we hope this comparison between Chegg and StudySmarter has inspired you to start using a learning app to help you learn more effectively! Both Chegg and StudySmarter offer their own unique services and features, and I would say you can use them both for different things. If you want a fantastic user experience, more freedom to create your own study materials, a larger selection of subjects, and an accountability buddy, StudySmarter is the way to go. Although you can create flashcards, Chegg is a lot less interactive and collaborative. However, if you're looking for some help with referencing and need some online textbooks, Chegg has got you covered there. And I also think their Math Calculator tool is pretty awesome.
Just remember that StudySmarter is completely free, so if you're looking for most things Chegg's offers at no cost, well, we'd love it if you joined our community!