Let's Get some Headspace App Details: What's All the Fuss About?
The Headspace app is designed to relieve stress, help you get a good night's sleep, and practice mindfulness (such as how to form a habit, be more grateful and present, and improve your self-esteem).
You may not think meditation is for you. But maybe that's because you think meditation has to be this really looong exercise where you sit cross-legged for hours. But this is not true. Headspace offers bite-sized meditations (as short as one minute) that you can use whenever, wherever to help you calm down, re-focus, and get into a better Headspace.
As a student, you are incredibly busy, and it's not just academic pressure that can get to you. As adulthood hits you, you have to navigate all the challenges that come with life: relationships, life at home, finances, jobs … the list is endless. Being a human can be hard, y'all! That's why we all need a little help – and we should capitalise on the technology we have in the form of smartphones and apps.
Get Your Head in the Game: Headspace for Students
One of the cool things about Headspace is that it's for all ages. So whether you're still in high school, navigating university life, or just starting with your career, Headspace has something tailored for you (maybe you even have a much younger sibling – primary schoolers can use this app, too!).
Below are some examples of meditations and videos Headspace offers specifically for students.
Breathing Through Exams
Exams are a stressful time for students, which is why many experts suggest developing a healthy stress-relief strategy. This particular Headspace meditation is only ten minutes long and helps you learn how to use your breath to focus better and calm down when you need it. It works great by shifting your attention to your own body rather than exam-related stressors. You can do it anywhere,
Burned Out
The Burned Out three-minute meditation makes you stop for a few minutes to figuratively (and literally) catch your breath, recentre yourself, and release any tension you have. Self-care, mindfulness, and meditation are all important in preventing burnout, and they don't need to take a huge chunk of time out of your day. Simply spending a few minutes with a meditation like this one can make a positive difference to your day. Remember, the best way to cope with burnout is to make some time for yourself.
John Legend's Playlist and Steady Stream
John's playlist is described as an 'eclectic jazz mix' curated by the legend himself (pun intended!). The Steady Stream playlist comes with some inspirational beats to boost your focus. John Legend also teams up with a cognitive neuroscientist to discuss topics like 'Does Music Help You Focus?' and 'Can Music Help You Sleep?' If you're a fan of study playlists, you can find some excellent picks on Headspace too!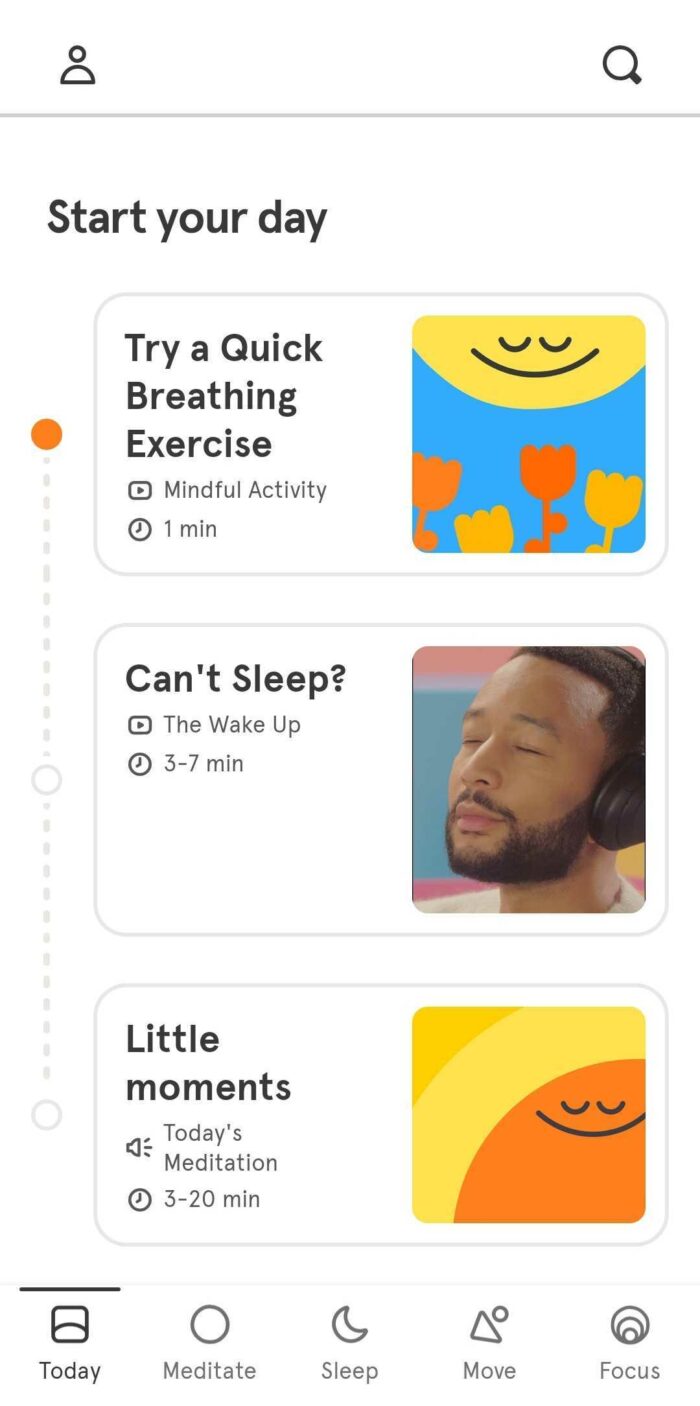 Mindful Tech
This is a good one for all of us! Social media and smartphones can often be more of a curse than a blessing, and it's so important to develop a healthier relationship with all the tech around us. As this meditation highlights, you can determine how you interact with your devices (like me playing Wordle, Quordle, Octordle, Taylordle (a Taylor Swift Wordle) as a form of procrastination!).
Moodboards
Headspace offers ten-minute videos that match your mood to give yourself a healthy mental break. These videos include Playful Savanna (I loved this one because it reminds me of home, South Africa) and Inspiring Land and Sea (watch baby turtles hatch or salmon swim upstream).
How Does Headspace Help You Relax?
Headspace offers what it calls 'Meditations for Sunday Scaries'. So meditations under this category are ideal if you tend to get a bit panicky about the school/work week ahead. Self Care gives you some valuable tips on how to take time out for yourself, and Identifying Anxious Thoughts helps with breathing and dealing with anxious thoughts in a helpful way.
There are so many categories to choose from, so you won't have a shortage of options. If you're into yoga, the app offers videos from 10 to 45 minutes (I've got the free trial, so I'll try some of these even though I'm possibly the least flexible person on this planet). There are also meditations to help you deal with grief and injustice and courses dedicated to handling sadness if you're going through challenging times.
Ready to Hit the Hay? Using Headspace Guides to Sleep
Even if you aren't pulling all-nighters, getting some good sleep is a slippery slope (that was some good alliteration, right?!). Cue tossing and turning, bloodshot eyes, and just all-around grumpiness and being snappy and unproductive the next day. Headspace sleep meditation can help you navigate those pesky sleepless nights and get a good dose of ZZZZZs. (We don't recommend falling back on sleep medications unless your doctor prescribed them).
Sleepcasts like Desert Campfire. This particular sleepcast uses a technique called noting. It helps you create the ideal state of mind for gentle, restful sleep. You have a narrator guiding you through the process with ambient sounds of a crackling fire and a chorus of crickets to create the feeling that you're in the middle of nowhere under a vast, starry-nighty sky. You can also use it when you wake up in the middle of the night to help you get back to sleep.
Another sleepcast called Compass Gardens helps you get ready for rest with an exercise called visualisation. You're guided to letting go of the day by focusing on different parts of your body and switching your muscles off. I use visualisation myself from time to time, and it helps. (I also like the sleepcast called Beachcomber that offers a breathing exercise and ambient sounds of ocean waves and seagulls – pure bliss!).
Sleep radio and sleep music. Headspace offers sleep radios like Rain Radio, Night Sound, and Ocean Time. These radios offer up to eight hours of relaxing music, sleepcasts, and soundscapes that you can leave on through the night if you'd like (you can download them, so you don't have to worry about burning through that data). I like the Ocean Time radio because it reminds me of being at my favourite place in the world (the East coast of South Africa).
Expert guidance videos from professionals on various topics, including 'How to Eat for Better Sleep' and 'Sleep and Anxiety'. These videos are quick and to the point so that you won't feel bombarded by information.
In Headspace's sleep library, you'll also find meditations specifically for sleep and courses and exercises from sleep scientists. There's even a guide you can follow for five days to get you started on your journey to slumberville.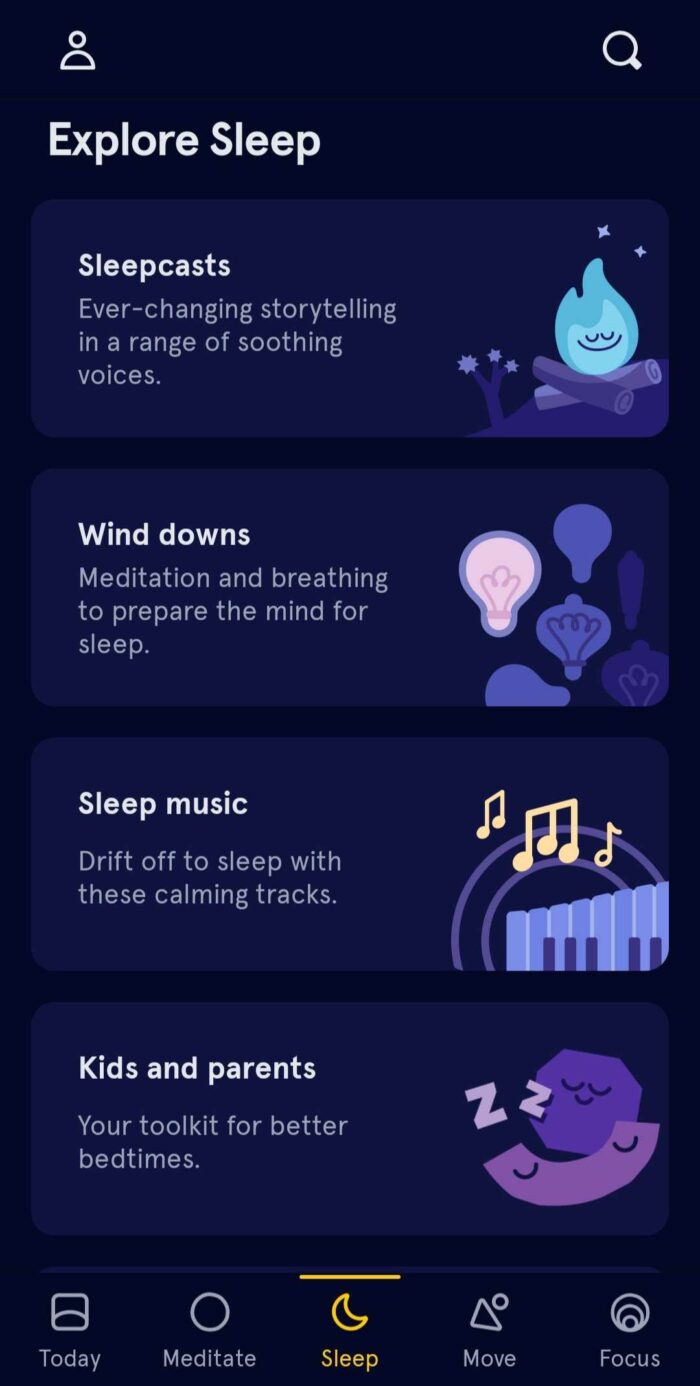 Ok, but … Is Headspace App Free?
So here's the only downside – the app isn't free. You can download it for free, but it will cost you (currently) around £10 a month (be careful, it's an automatic renewal, so if you want to cancel at any point, you have to do it yourself). If you take the annual payment option, it's about £50. There's also a free trial, so you can take it for a test drive and see if you'd like a subscription.
Is Headspace App Worth it?
We know that often, being a student means having a limited budget. But if you have the means, £10 is worth it because you are investing in your long-term health. If you're working for a company, perhaps you can get them to pay for this subscription as an added benefit.
If you're still on the fence about whether to get Headspace, here are some pros and cons of the app:
| | |
| --- | --- |
| Pros | Cons |
| downloadable content – watch/listen anywhere | no free content |
| disability-friendly | longest meditations are 30 minutes |
| has progress-tracking and goal-setting features | not suitable for advanced meditators |
| great for beginners | best deals only available on the website and easy to miss |
| multiple meditation teachers | gets repetitive at times |
| meditations guided by celebrities | auto-renewal – you have to cancel manually |
| available in multiple languages | more expensive than other meditation apps |
If Headspace just isn't within your budget right now, there are plenty of free resources online and other apps to help you.
Battle of the Best: Headspace vs Calm
Headspace is not the only app that has brought on celebrities on the meditation board. Calm is kicking some major meditation butt in this arena too. If you're a fan of Bridgerton (seriously, who isn't?!), you can have the Duke himself, Regé-Jean Page, narrate a sleep story with his soothing voice and beautiful British accent. Other celebs who've collaborated with Calm include Harry Styles (to give you some direction, ha!), Idris Elba, and the iconic LeBron James (he helps you with your mental fitness).
But overall, Headspace and Calm are much-of-a-muchness. It will come down to personal preference (for example, I enjoy Calm's user interface a bit more than Headspace's, and you can customise your dashboard). Both have content specifically for students, so you won't be losing out if you opt for one over the other.
This table shows some differences between the meditation gladiators.
| | |
| --- | --- |
| Headspace  | Calm |
| PlayStore ratings: 4.2 stars, over ten million downloads, number 7 top-grossing in health and fitness. | PlayStore ratings: 4.2 stars, over ten million downloads. |
| Cost: around £10 per month or £50 per year if you opt for the annual plan. There's also a family plan option. | Cost: it starts at just over £30 (limited time offer) but can be about £60 a year. You can also choose Calm for Life for just over £300. This is billed once, and you'll have access to Calm forever. |
| Free trial: 7 or 14 days, depending on the plan you choose. | Free trial: 7 days. |
| Meditation: ideal for beginners. It offers more structure when practising your meditations. | Meditation: perhaps a better option if you're more experienced in meditation. |
| Exercise: great if you're looking for fitness/physical exercises like yoga, stretching, and core work. | Exercise: Calm offers quite a few movement options, too. Lots of stretching exercises, back care, movements you can do daily, and even some sweat seshes! |
| Check-ins: you can track your stress over time and even invite some buddies for accountability. Headspace also has SOS meditations to help you deal with intense emotions. | Check-ins: Calm offers valuable mood and sleep check-ins along with a motivating quote and recommended content. It also offers a gratitude journal (we mentioned how good mood trackers and gratitude journaling are in preventing burnout in our other post!). |
| Languages: available in English, French, German, Spanish, and Portuguese. | Languages: Calm offers more languages, including English, German, French, Spanish, Portuguese, Korean, and Japanese. |
I'd suggest using the free trial period for both apps to see which one you like best. Both have excellent features, and the apps are consistently updated with new things. Go with your gut feel on this, but just know that both apps are valuable and will help you with your overall well-being. However, from my research, it did seem like Headspace was the overall winner!
The Benefits of Meditation with or without Headspace
Whether you choose to subscribe to Headspace or not, meditation, mindfulness, and getting enough sleep is so essential for you. I make sure that I get at least eight hours of sleep per night, and I practise deep breathing and mindfulness when and where I can, especially in my high-panic moments. Breathing is so powerful when you're panicking – never underestimate it.
Here's why meditation is so powerful:
It will help you calm down, refocus, and regain a sense of peace that will last you throughout the day.
Meditation helps you learn essential skills to deal with anxiety and high-stress moments.
It increases self-awareness, grounds you, and brings you back to the present.
Being present helps you come back to the reality where you CAN control how you react to the day as opposed to panicking about imaginary scenarios.
It enhances productivity (great for studying and assignments!).
It helps you practise patience and tolerance.
And, don't forget – practicing gratefulness and mindfulness has a positive impact on the way you see the world: Hint: it has to do with the bright side of life ♪♫♪
Is Headspace Right For You?
To recap: Headspace is a popular meditation app that offers a series of videos and recordings guiding you towards a more peaceful and mindful life. It focuses on a variety of meditations that are designed to help you improve your focus, sleep, and mood.
If you're unsure if Headspace is right for you, ask yourself the following:
Are you looking for new ways to boost your mindfulness?
Do you prefer shorter meditations?
Would you be willing to pay about 10 quid a month for the benefit of your mental health?
Do you need an app to help you set goals and track progress?
Do you have a crush on certain celebrity voices?
If the answer to most of these questions is Yes, go for the trial version. Play around with the interface and lend an ear to several guided meditations in each category. Remember, you can always cancel your subscription!
Take care of yourself and have a pleasant day!