Part-Time Jobs for Students
So, you're a student – high school or university, it doesn't make a difference – and you're already roped into the new and dynamic life of lectures, responsibilities, and life lessons. One thing is missing, though – some cash! This will be the case for as long as you study – it's just the will of some divine force that students are poor. However, you can mitigate this great life's truth by getting a part-time job.
Having a part-time job as a student is incredibly beneficial to your future career. Not only will you gain work experience, but you'll also have insight into what truly makes you happy – be that helping people, devising social-media strategies, or working in a firm structure. Additionally, you'll feel more confident and learn a set of skills crucial to success in your studies and life: time management, discipline, organisation, and people smarts.
It's never too early to get a part-time job, and the great thing is that you don't need too much knowledge or experience for many positions (after all, you're still a student, and you're on your way to experience). Let's check out some of the most popular options for student work.
Part-Time Jobs for Students – High-Paying or Not, Here They Come!
A short preamble to the most sought-after student jobs, which seem to be hiring all the time: Your concept of money as a high-school or a university student may vastly differ. Even the several years between high school and uni will change your perspective on how much you should earn. However, your needs, too, will be proportional to your academic journey. As a high schooler, you're probably still living with your parents, which means no rent or utility bills, and most likely, the fridge still magically fills itself. On the other hand, at university, once you've moved out of your parent's place, you'll face an increase in expenses. Dorm life or flat-sharing is a good way to save cash, as is prudent grocery shopping.
The point is – don't set your expectations too high. If you've already become a master software developer, sure, you can expect a good payout. Otherwise, go for those jobs that speak to you and don't leave you burnt out. After all, you still have your studies to worry about; no need to be exhausted before you've started.
Part-Time Jobs for High-School Students
Let's start at the beginning, as those witty elders would say. Getting a job in high school is quite a reasonable idea: after all, you're almost of age, and your mental and psychological development have reached the tipping point between a kid and a young adult (you're probably still grappling with some matters of idealism, resulting in unsolicited door slams and the overwhelming sense of being alone in the world – it sucks, but it passes). What I'm trying, in my long-winded way, to say is that you're perfectly capable of making your own decisions about whether you want to work or not.
Here are some of the most popular jobs for high-school students:
Babysitter. If you like kids, don't mind changing an occasional diaper, and can't wait to do fun things with them (that their parents would most likely disapprove of, e.g. eating tons of ice cream), you can find some babysitting gigs around you. It's a relatively dynamic way to earn some money and it would not disrupt your school schedule.
Newspaper delivery. Getting up a bit earlier and incorporating a bicycle spin around your neighbourhood into your routine would do wonders for your health, fitness, and mood. Why not make a killing while doing it by delivering newspapers along the way? If you scorn early risers, you can do this job in the evening too.
Café server. Depending on your age and how clumsy you are, this may involve being a barista, waiting tables, or working as a receptionist in a café. All you need is the ability to smile and be polite to customers; everything else comes with practice.
Movie theatre cashier. Alternatively, an usher. No major physical work is required – you can work at a desk office and sell tickets or guide people to their seats (which may include bringing them some drinks in the intermission and glaring menacingly at those who cannot keep their mouths shut during that heart-wrenching bit of the West Side Story).
Petsitting. People go on holiday and cannot always take their pets with them, but luckily for them, you're there to jump in and attend to the animals' needs. Feeding, making sure they have water, walking dogs, and most importantly, being surrounded by big balls of floof and cuddles?! Sign me up too!
As a high-school student, you may also be interested in working as a cashier in a supermarket, a hotel receptionist, or an ice-cream scooper. Whatever you decide to do, make sure the job is not too taxing and time-consuming, as you still have your education to think of.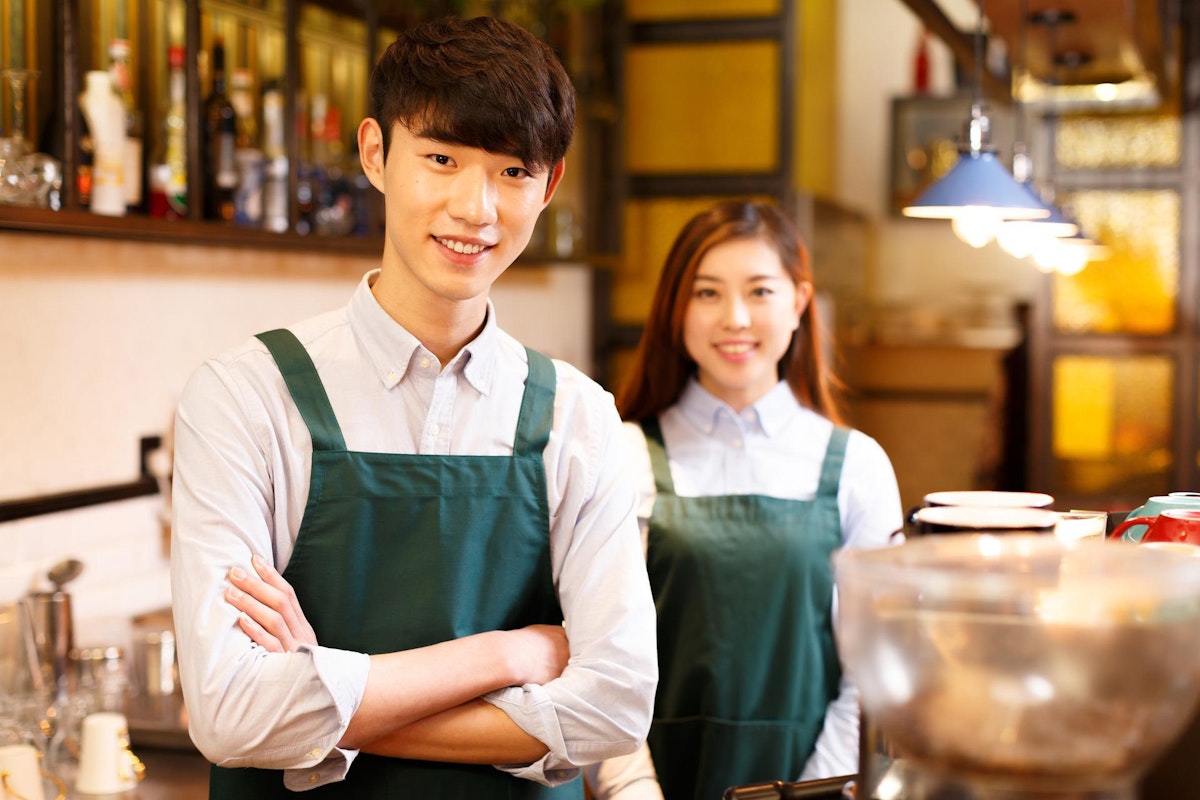 Part-Time Jobs for College Students
As if university wasn't difficult enough with all the papers, projects, and assigned reading, you have to think about working on top of it all? Actually, it's not that bad to have a job as a university student – it's a great way to finance your studies or leisure activities, boost your confidence, and gain some work experience. But what can you do?
For starters, if you've had a job as a high schooler, you would be perfectly fine continuing what you were doing while studying. Babysitting and petsitting are both fun in their own way, and waiting tables comes with the benefit of regular tips. However, there are more options you can consider:
Administration. All universities and companies always look for yet another person to deal with their administration. This can involve anything from checking the mail and making coffee to archiving documents and filing financial reports. While sedentary, it's not likely to be boring.
Bank teller. As a bank teller, you'll help people count and handle their money as they run errands in banks. You have to have a steady hand and good concentration to do this, but you'll be able to transfer that well-practised focus to your studies, making them more effective.
Bookkeeper. If you're an Excel whiz-kid, don't mind crunching numbers, and are okay with an occasional bad meme about you, you can work as a bookkeeper – talk about a well-paid job.
Elder-care assistant. Life in the twenty-first century is far less community-oriented than it used to be, which often means that elderly people need more help that they cannot get from their children (work, living far away, difficult circumstances, you name it). As an elder-care assistant, you'll step in, do some grocery shopping for people, and maybe help them clean their house or cook a simple meal. It can be very rewarding as older people always have a good story to tell.
Social media curator. If you can't help yourself but check your socials all the time, you may as well put that interest to good use. As a social media assistant, you'll schedule and curate posts about your company, communicate with people, and try to generate more interest (and revenue) through online engagement.
Additionally, you can work as a house sitter, delivery driver, or retail team member (though be ready to meet your fair share of Karens – some things are inevitable in life).
Remote Part-Time Jobs for Students
Working as a student does not even have to take you out of your own home. Remote jobs come with their own advantages, like flexibility, time efficiency, and various tasks. If you prefer to work from the comfort of your bed (plus blankets and endless cups of tea), here are your options:
Online tutoring. Put your knowledge to good use, help poor unfortunate souls who need to prepare for their exams, and make a good deal of money by teaching online. There are numerous platforms through which you can apply and teach anything you like.
Writing. Content creation, copywriting, ghostwriting – you name it! The gist is the following: you'll be writing a series of articles or other online content. You can be paid per piecemeal or per hour, but for the most part, you'll be flexible in how and when you work.
Web development. If IT is your sphere of interest and excellence, you can line your pockets by working in web development. (Cheating here, but this is a two-for-one offer – alternatively, you can be an IT administrator for literally any company.)
Data entry. I won't lie; this can be both an extremely taxing or a completely mindless task, depending on your interest and intellectual faculties. Data entry is a good way to reduce stress, as you'll be working in a relatively stable and predictable environment.
Customer service/helpdesk representative. People will always have questions, complaints, or confusion – if your interpersonal skills are on fleek, you'll have no trouble responding to their queries and quelling any doubts your company's customers may have about their product.
As a native English speaker, you can teach English as a foreign language or work as a virtual assistant or photo/video editor. Remote work tends to be well-paid and satisfying for students, which is why I recommend it heartily.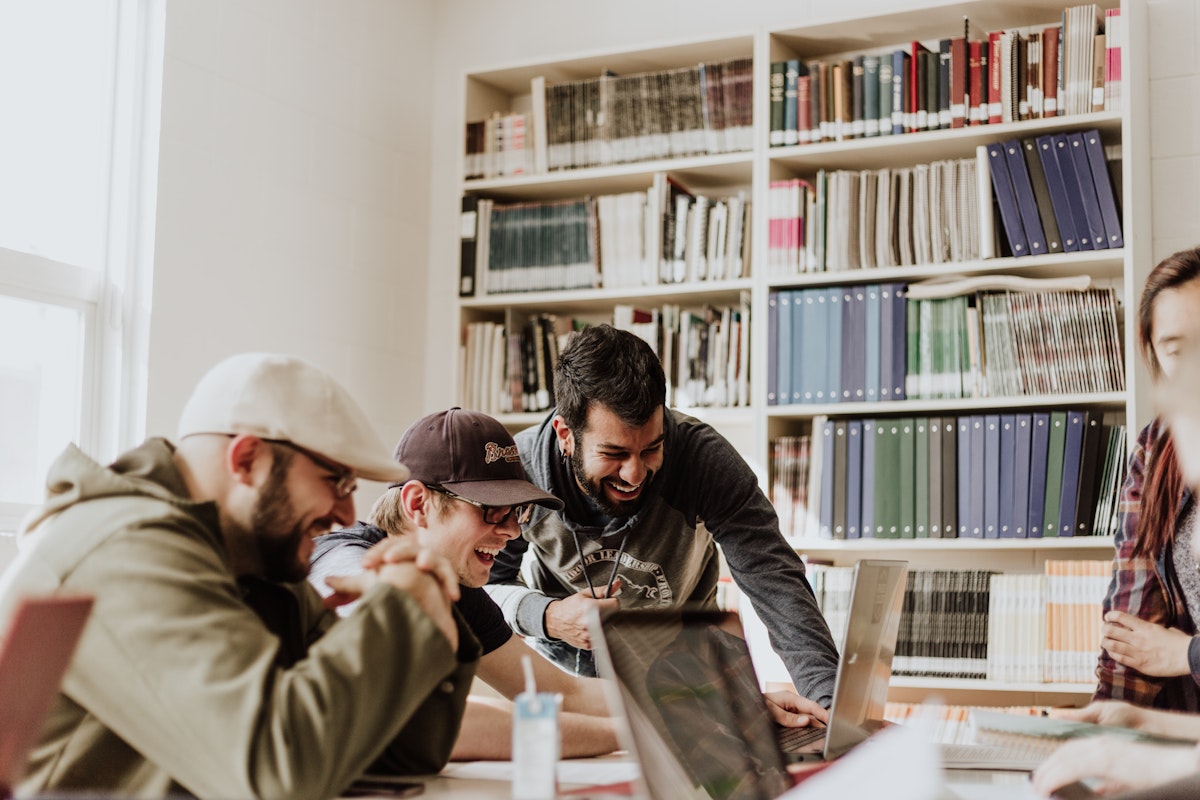 The Great Thing About Part-Timing? Flexible Hours
To recap: having a part-time job while still in school is a great way to get acquainted with the job market and work ethics, gain confidence, attain transferrable skills, and master interpersonal communication. And, yes, make some money.
When choosing a job, always listen to that nagging little voice at the back of your head because that one knows best what you actually want. There is no need to chase get-rich-quick schemes, and honestly, there is no point in hoping for an extremely high salary. Instead, opt for decently paid jobs that don't make you wanna scream in frustration. (PS Students have a high tolerance threshold, so I don't think there will be much screaming anyway.)
Some of the most popular jobs for students, which all come with relatively flexible hours, include:
Babysitting or petsitting (well, housesitting too).
Working at reception desks.
Waiting tables.
Tutoring online.
Data entry.
Whichever job you choose, make the most out of it – skills and experience-wise – and remember, a job may be temporary but what you learn there stays with you forever! 😊