Discussing the Flatshare Meaning
You must have been excited when you got accepted for your desired university program. Congratulations, you most definitely should be thrilled about this new chapter in your life! However, going to university usually means leaving the nest for the first time and getting a new place to live. But how when everything is so damn expensive these days?
The answer is: flatsharing! It's rather unreasonable to expect that students will attend lectures, do their assignments, AND work full time in order to pay rent (and hopefully eat something more than just beans on toast for the rest of the month). In fact, sometimes it's unreasonable to expect students to attend courses AND do their assignments, let alone have a job (trust me, I know and empathise). Nevertheless, the rent needs to be paid, but sometimes you can share the load. Or share the flat.
A flatshare is when several people live together in one flat or house. Everyone has their own bedroom, while the kitchen, living room, and facilities are shared. How is this different from simply living with a family? Well, for starters, you're not related to your flatmates, and you have to pay rent (which you probably don't do at your parents' place). On the other hand, if you're lucky, you might have such great flatmates that they end up being family too.
What is a Student Flatshare Like?
Sharing living space with other students is an experience everyone needs to have #facts. You'll most likely have lived with your family all your life before university, so you won't have the culture shock of suddenly being surrounded by people, but these new faces make the experience more exciting. As I said, when you share a flat, you have your own bedroom where you will sleep, study, and chill out when you need to recharge your social battery, and you'll also have access to common rooms like the kitchen or a living room.
Depending on what kind of person you are, you might find yourself enjoying spending time in the living room watching the comings and goings of your flatmates or chatting or playing (drinking) board games. (PS I'm not promoting alcoholism, but let's face it, student life in full abstinence is as rare as a sociable panda).
Regardless of whether you prefer solitude or company, you will cross paths with your flatmates, and I can guarantee you will have a wide array of anecdotes about each and every one of them (as will they about you), including stories of laughter, quirky habits, small (and big) annoyances, and a wealth of life knowledge you picked up from them (from making biscuits to knowing how to deal with the day after (drinking) board games).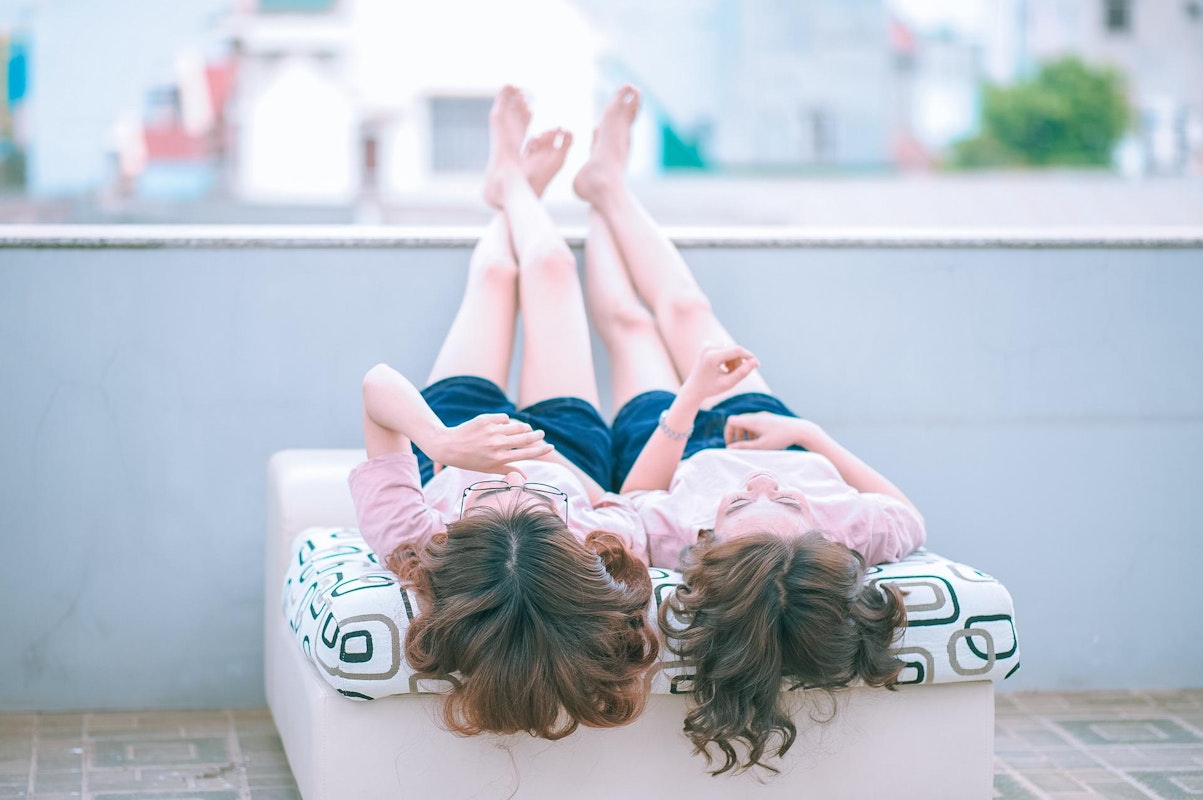 The Benefits of Sharing a Flat
If you're not sure whether you want to live with strangers, here are a few pros of sharing a flat:
Meeting new people. Your best friends were only strangers once, weren't they? When you move out of your parents' place, you might feel lonely or even lost as you learn to navigate your new life, city, and university. Having a flatmate is a good way to meet people, learn about what's going on in the city or uni, and even go on adventures together.
It's a great learning opportunity. Flatsharing is, in fact, all about learning. You'll learn to adapt to people's needs, set and enforce boundaries, and cook and clean more efficiently. But most importantly, you will learn a lot about yourself. As you observe the most intricate tenets of human nature, you might learn about your own tendencies in various situations and behaviours you never even knew you had.
It saves money. Better to pay for one room than a whole flat, especially if you have little to no income of your own.
Sharing the work. It's not just the flat you'll be sharing – it's the work around it. It's important to make it clear who's doing what and when in order to have a decent quality of life (you really can't live in a pigsty!) and avoid disagreements.
No commitments. Flatsharing is great because you can move in and out easily and without long notice periods if you decide you don't really like the place or the lifestyle.
The social component of sharing a flat includes having help when you need it, sharing fun house dinners, and decorating the place together.
How to Find a Flatshare Room? And What to Do When You Have It?
Now that I've got you thinking about the good stuff, let's get you started on your student room hunting. Before you endeavour onto the series of websites, newspaper ads, and Facebook groups, there are a few things to consider if you want to find a perfect room for yourself.
First of all, you must decide what you need. You should have a list of things your ideal flat/room will have. For instance, if you're keen on keeping your plant collection alive, you'll need a well-lit space. If you like doing home fitness, you'll want a room with enough space and good floors (not that squeaky mess so many flats seem to suffer from). Consider your lifestyle and habits to ensure you're getting the best possible deal.
Good Flatshare Websites
Daunting as it may seem, finding a flat is not tragically hard. There is a host of websites designed to help you find a place and gain information about your potential flatmates and the landlord. Let's have a look:
Spare Room. This is the most acclaimed flat-hunting website out there. You can search via the area where you want to live, rent and utility costs, furnishings, and move-in times. The website is incredibly versatile and covers just about any student need. What is more, you can advertise yourself as a good flatmate or contact others in order to join forces in flat-hunting.
RoomGo. Another easy website that'll get you places (quite literally). You will need to create an account that provides basic information (age, occupation, move dates, etc.), and you'll get to browse relevant offers based on your search criteria.
MoveFlat. This tiny website covers the London area, so if you're going towards the capital, you might find interesting offers with the extra filter for your preferred tube zone.
As you browse and find exciting places, write up a proper flatshare request. Introduce yourself, provide information about your studies, plans (e.g., how long you'll be staying at the said flat), and even how you'll be financing your stay. Write formally and don't skate over important information – after all, all landlords want to know their tenants can afford to pay rent (and ain't nobody got time for lawsuits these days). Make yourself accessible and approachable, and be ready to go and visit the flat.
Before You Sign the Flatshare Agreement
When you find your dream place, you'll most likely dash to sign the contract, but before you do, make sure that both you and your flatmates are transparent about several things.
Be honest about your habits. I won't lie; nobody likes a messy tenant, and renting a place involves taking care of it. If you're not particularly interested in cleaning, you should get your act together OR outright say this to your landlord (unless you want to face sudden eviction due to the poor treatment of your flat).
Meet the future flatmates. Finding a place is a screening process for all parties. The owner will want to know who you are and get a chance to judge your character and your potential flatmates. However, you get the chance to look at them too and see whether they strike you as reliable people with whom you can share a living space. Talk to them and ask them about their lives and studies – might as well get a glimpse of whether they take their obligations seriously because that's also a good indicator of what you can expect on the chore front.
Consider whether your lifestyles are compatible and whether you have to sacrifice anything in order to live with others. Flatsharing is about compromise to a degree, so make sure you're getting a good deal out of it, too.
Read the flatshare agreement thoroughly. Make sure there isn't any fine print or suspicious expectations/requests, and know your notice period to avoid trouble later.
A Few Flatshare Tips
Before I send you off on your merry way, there are a few tips to remember when sharing a flat:
Start looking on time. Sometimes finding a flat can take some time, so better start looking some months before you intend to move. Sure, you might find yourself sleeping in hostels or Airbnbs for a short period, but ultimately, it's better not to have these bouts for long.
Address problems instantly. If it so happens that you have a problem with your flatmates, address it instantly. Bottling it up and succumbing to passive aggression will not solve anything – it'll just make a mess out of things. Avoid leaving messages to one another and sit down and talk in order to find a solution. If you really cannot reach an agreement, lay some ground rules on behaviour until you find a new place.
Join forces. If it's you and your flatmates against the flat itself, you should join forces in a democratic manner. In other words, sit together and discuss what needs to be done and how you'll go about it.
Have a chore list. Plan out things and have the chart posted where everyone can see it – the fridge is a popular option. If someone is failing to do their chores, enforce boundaries.
No stealing (or tolerance for it). I can't believe that I even have to say this, but seriously, don't tolerate theft of any kind. This is the worst-case scenario, but be prepared nonetheless. If you need to label your stuff, do it, and discuss what's shared and free to everyone.
Divide costs. If you don't feel like labelling every piece of food in your fridge and prefer to shop with your flatmates, ensure the costs are shared fairly. I suggest going Dutch at first, and later, if you're good friends with your flatmates, you can compromise in other ways.
Speaking of compromise. Be ready for it. You can't always have things go your way, and you must be ready to deal with them. Work on your soft skills and keep your temper. Shouting and arguing don't solve much.
Get people together. Organise a sit-down every now and then to foster the spirit of cohabitation and good atmosphere.
Enjoy yourself. As I said at the beginning, sharing a flat will be an unforgettable experience however you look at it, so you might as well make it a good one. Socialise with your flatmates, build a good working relationship with them, do your tasks, and things will be fine!
Good luck!