Seneca Learning: A UK-Based Study App
Seneca Learning is a homework and revision app, which provides you with more than 600 interactive courses, all loaded with mock-exam questions, quizzes, and revision prompts. It is structured around board-certified topics and covers everything you might need for A-Level, GCSE, and KS3 exams.
The app is available to Android and iOS users, and there is a web version that seems to work nicely with all browsers. The free version offers some 600+ well-developed courses, and you can upgrade to premium to gain access to around 800 more.
There are different types of products to help you with revision and the quick re-learning of basic materials, including vocabulary definitions, quotes, and certified resources (like summary sheets and PowerPoint presentations) to guide you through most A-Level and GCSE topics. Seneca Learning also aims to involve more people in learning – it has designated pages for parents and teachers. For instance, teachers can assign homework in the app, and they have an easy overview of how their students are doing and what needs more attention in class.
Seneca Learning – A-Level and GCSE Exam Prep
The Seneca Learning app is primarily geared towards exam revisions. If you're looking for a quick way to go over your materials, you'll have many themes and resources at your fingertips. For example, if you're struggling with English Literature, you can pick any novel, play, or poem, and you will get a summary of scenes, the most important quotes and their interpretations, and a series of quick follow-up questions to check how much you've remembered.
The app uses a smart algorithm to promote learning through these questions – it keeps you on your toes and actively engaged with the material. In fact, you cannot escape it as the app will keep repeating the questions you get wrong until you get them right!
I found the 'memory storage' the app uses particularly interesting. Once you're done with a particular session, you can choose where to store your memory of it, for example, in Japan. This reminds me of Sherlock's mind palace, a system in which you store memories inside particular rooms or, in this case, countries. When you need to recall them, you can imagine yourself entering the room/travelling to a specific country.
The free version of the app covers everything you need for your exam, but if you're extremely diligent and meticulous, you can check out premium features for even more prep materials. However, don't expect long-winded, detailed explanations – Seneca Learning is predominantly focused on revision and should be used as such. If you need longer pieces of educational material, I suggest using StudySmarter.
En Garde! StudySmarter vs Seneca Learning
Our favourite learning app StudySmarter has challenged Seneca Learning and keeps demanding satisfaction. Well, I am happy to deliver. Let's take a look at how these two apps compare in order to provide you with the best learning experience!
Interface
I gotta admit, I do love the colour blue, and both StudySmarter and Seneca Learning know that blue is great for calming your nerves, especially before the exam! Both apps are pretty straightforward in terms of user-friendliness once you get acquainted with them. You just need to sign up quickly, and you're ready to go. The most prolific way to use the apps is to select the course you need within which you will find the necessary materials.
As I mentioned, Seneca Learning is primarily a revision app. You will find some notes and condensed explanations on your selected topics, followed by questions that test how well you remember them. On the other hand, StudySmarter is a more holistic app that has your back in case you missed school for some lessons or need to re-learn certain materials. (I won't even pretend that all teachers are good or exciting to listen to!) Additionally, STudySmarter has a magnificent library of flashcards you can use alongside your studies to keep track of your progress, but it won't throw repeated questions at you. Instead, it offers a different approach to explanations to ensure you know your stuff at the end of the study session.
Finally, StudySmarter has an internal reward system that helps to keep you motivated throughout your learning journey. You can access your badges and honours at all times and see what else is needed to achieve new ones. This is based on a provenpsychological method of keeping students engaged and interested in their work.
Materials Provided
If your sole aim is to repeat what you know and prepare for A Levels or GCSE, Seneca has got you covered. However, don't expect hefty explanations of deep maths or psychology. For expert-written articles based on your curriculum and needs, head over to StudySmarter. In addition to those, the app has a fantastic collection of A Level and GCSE materials for all subjects, enriched by digestible and informative readings, tests, flashcards, and clever tech tracking your progress.
Another great thing about StudySmarter's original study sets is how customisable they are. You can add your own materials, edit, scribble notes, and highlight what you need. And bonus, you can help fellow students out and share your own study sets with our community.
Progress-Tracking and Success Rates
Both apps boast some extremely hopeful reviews in terms of success rates, and they use different ways to boost your memory. So, which one is it? I must say, I love the mind palace idea – when you gain knowledge, you open doors to any place in the world. However, I wasn't particularly fond of Seneca's repetitive bashing with the questions I deliberately got wrong multiple times. Seneca promotes memorisation through repetition, but it does not offer more detailed explanations about why you were wrong. Lots of their questions are based on pure recall, like remembering parts of quotations or exact formulae 👎.
On the other hand, StudySmarter takes learning with understanding seriously. School is not about testing your memory, even though it looks like it sometimes. There is a life after school where you might need that knowledge. Whether you go into a trade or university, learning how to learn now is far more important than learning how to remember. While Seneca users reported higher memory rates in their exam prep, StudySmarter fans know that what they learn with us will stay with them. Why not join us?
Community
You know how it takes a village to raise a child? Well, it takes the world to educate one. And both Seneca Learning and StudySmarter take this seriously. Seneca Learning engages parents and teachers in the learning process, demonstrating how important it is to have support from adults. However, direct engagement among users is not possible, which slightly diminishes the sense of not being alone in the big journey towards final exams.
In comparison, we are very happy and proud of our community here at StudySmarter. Our users are the most diverse, knowledgeable crowd you can find out there! With the StudySmarter community, you can exchange flashcards and study sets and interact with others, giving you those High School Musical 'we're all in this together' vibes. And, come on, if you say you never wanted to be a part of a singing and dancing flash mob, you're lying 😉!
Go Above and Beyond!
If there's one thing I, as an educator, stand against, it's learning for exams. By this I mean cramming for two weeks only to forget everything as soon as you hand in your paper. That's a lousy way to study, and, believe it or not, you will need some of what you've learnt later in life.
Either way, where Seneca Learning stops at memorisation and rote-learning for A Levels and GCSE, StudySmarter takes over, keeping you company throughout your university journey too. We structure our materials in comprehensive and attractive ways that'll stay with you even after you're done with exams.
Lastly, we care for our students' well-being, so we've established the StudySmarter Magazine – your best friend in navigating the murky waters of student life, term papers, and job interviews. We don't stop at education for the sake of it, and we want to help you out with much broader life experiences like learning soft skills, leading a healthy life, and taking care of yourself. And when all is said and done, you'll find quite a bit of entertainment and relaxation here, too, so jump right in!
To quickly sum it up: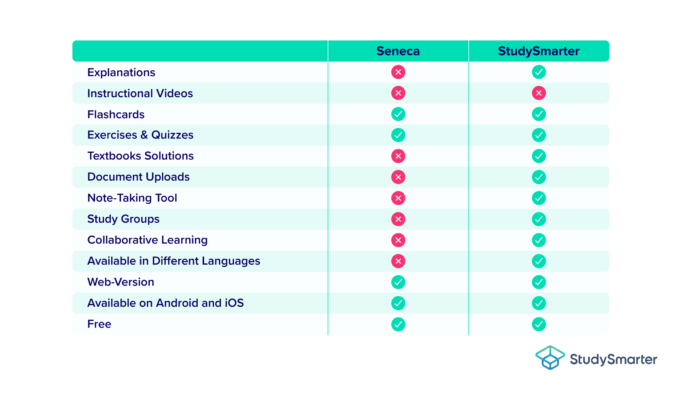 So, Who Won? Seneca Learning or StudySmarter?
Here's the thing, we know how much effort and passion goes into making StudySmarter great. But I won't lie; Seneca Learning does have its own perks. Overall, my judgement is that StudySmarter is a better app for your long-term success, BUT it can be combined well with Seneca if you're looking for a quick revision.
StudySmarter scores much higher on
expertly-written study materials,
interactive flashcards,
a helpful and friendly community of peers and educators, and
student blog, which knows there's more to life than studying.
So, my suggestion is to use StudySmarter to study smarter and help yourself with some Seneca A Level and GCSE revisions. See you around!