I must admit, I wasn't the best at studying during my school and university days. And what I mean is that I didn't study smart. I made notes upon ridiculous notes, spent hours burning the midnight oil without sleep, and didn't set goals or track my progress. Oh, and I definitely didn't use helpful tools like flashcards and quizzes. If I could go back, I'd probably use a learning app, but thank goodness my studies are over!
So let's make sure you study much smarter than I did by capitalising on all the amazing technology we have nowadays.
Websites, like Khan Academy and StudySmarter, for College Students
OK, first things first: who's who in the learning zoo? (It's been a while since I've used that phrase!)
Khan Academy
Fun fact: Khan Academy started as one man tutoring his cousin! From its humble beginnings, Khan Academy, which is a non-profit organisation, is now a renowned learning platform with the mission to provide a 'free, world-class education for anyone, anywhere.'
Subjects
In terms of subject content, Khan Academy focuses on Maths, Science (including Physics, Chemistry, and Biology), Computing, Arts and Humanities (History, Politics), Economics, Reading and Grammar, and Life Skills. Although they have added new subject areas, Khan Academy's main focus is on STEM subjects.
School Level
Khan Academy has content for both primary and high school learners. There is maths content for students as young as seven years old, and Khan Academy Kids is a free educational program for children between the ages of two to eight.
You'll also find content for college/university level on the following subjects: Maths, Physics, Biology, Chemistry, Environmental Science, US History, US Government and Politics, Art History, and Economics.
Test Prep
Khan Academy has test prep for the SATs, LSATs, Praxis Core, and MCAT. You'll also have access to some AP courses. As you can see, Khan Academy is geared towards the US curriculum.
Languages
Khan Academy is currently available in English, Spanish, French, and Portuguese. The resources are also currently being translated into an additional 36 languages.
StudySmarter
Here at StudySmarter, we believe that digital education will improve the well-being of our world. We want to shape the future of education by empowering all learners to achieve their educational goals free of charge! That's why we leverage the power of new technology to bring you a powerful app with features like flashcards, summaries, and quizzes to make studying easier, smarter, and more fun (yes, fun!).
Subjects
StudySmarter currently offers StudySmarter Original Study Sets (which come with explanations, FAQs, and flashcards) on the following topics:
Biology
Business Studies
Chemistry
Economics
English Language
English Literature
Geography
History
Maths
Physics
Politics
Psychology
Social Studies
As you can see, StudySmarter has content on STEM subjects as well as humanities subjects, including English Language and Literature.
School Level
StudySmarter focuses on high school and college-level subjects, including the A-Level and AP curricula. We're also working on university-level content!
Also, students can share their own content on our platform, so if you search for your university in the app, you'll find content specific to your courses and university!
Test Prep
Whereas Khan Academy is geared solely towards the US schooling system (or countries following a similar curriculum), StudySmarter offers exam prep for the UK schooling system too. We offer prep for the SATs, ACTs, AP level, GCSE, and A-Levels.
Languages
StudySmarter is available in English, German, French, Italian, Spanish, Portuguese, and Turkish (with more to come!).
Head-to-Head: StudySmarter vs Khan Academy
Both StudySmarter and Khan Academy have fantastic features and excellent study materials. But if you're looking for a one-stop learning platform, StudySmarter is the way to go! Find out more about what each platform offers below.
Khan Academy
Khan Academy's main product offering is its platform that you can access via your web browser. There is an app for Apple and Android, but what you get on the app is pretty much what you get via the browser.
Khan Academy offers explanations (and summaries) created by Khan Academy experts (including academics and teachers). Learning via Khan Academy is more passive because learners can only access study materials. There is no option for students to collaborate on the platform or create and upload their own study materials.
What to Expect
Comprehensive explanations (mostly in video format, which is great for visual learners, but there are also explanations in written format). There are over 3400 instructional videos.
Practice questions for each unit.
Quizzes to test your knowledge on each section of a unit you've studied. Once you've answered the question, you can check how the answer was obtained (for maths/physics, etc.). If you get stuck on a question, you can review the section, try again, get help, or move on. There are a variety of formats, but you'll largely find multiple-choice questions that explain where you go wrong if you answer incorrectly.
Unit tests to test your knowledge of the entire unit.
Gamification, such as scoring points for each unit. You can also do course challenges to 'level up on what you already know'!
You can track your progress and have access to analytics if you sign-up.
You can access explanations without needing to sign up.
Price
Khan Academy is an NPO, so the content is 100% free!
StudySmarter
Because this is our baby, we will give you a more comprehensive overview of our features below. Unlike Khan Academy, StudySmarter is designed to be collaborative. Students can upload their own content and study materials, and they can also create content (including flashcards) to share with learners from around the world. Studying with StudySmarter is an active, collaborative process which reinforces learning and helps students hold each other accountable!
What to Expect
Here are some of our fantastic features:
Study Sets. Create your own study sets (and organise them the way you want with tags – you can add exam dates, too!) or access Original Study Sets from our experts. These study sets include explanations on a topic, flashcards, and frequently asked questions about the topic.
Explanations. Our carefully crafted explanations from our subject-matter experts summarise the most important information on a particular topic. Studying physics and need to know about Newton's Laws? Learning Robert Frost's poems? Need to know about coastal erosion for your geography exam? We've got it all, neatly packed in easy-to-understand explanations with flashcards to quiz yourself!
Flashcards. We're one of the few learning apps offering the flashcards feature. All our Original Study Sets come with flashcards that you can use to test your knowledge. You can also create your own flashcards to help you memorise your work (you can even assess your confidence level on each flashcard). With our intelligent flashcards feature, you can simply upload your notes and highlight the most important parts, and voila, you'll have an automatically generated flashcard! And bonus: you can access millions of flashcards created by other students via our app. For more info on our flashcards, check out our post: The Ultimate Guide to Flashcard Apps to Ace Your Studies!
Quizzes. Test yourself to see how much you understand and go back to areas you're not so confident in.
Textbook solutions. This feature gives you step-by-step examples from textbooks (because we all know those textbooks that just give the answers without telling you how the heck they got there!).
Document upload. You can upload as many study materials as you like – no limits! (Plus, they'll be saved online, so more excuses like, 'I lost my study notes, so I couldn't study!')
Note-taking tool. Sometimes, sitting in a lecture and taking notes via pen and paper can be a little tedious. Instead of doing this, you can use our note-taking tool to create notes and summaries you actually want to study from! Simply upload your document to our platform, highlight what's important, and let StudySmarter do the rest. Also, if you're feeling super artsy and need to channel your inner Picasso, we have intelligent formatting to let you get creative with your notes.
Snapshot feature for notes. If you want to liven up your notes further, you can create screenshots and insert them directly into your notes. Oh, and don't forget, you can upload your notes by scanning them, too! So easy!
Study plans. Having a routine and a plan for studying is super important. Simply winging it a few days before the exam without structure definitely isn't the best approach. (Also, we know how likely you are to procrastinate when it comes to studying 😉). With StudySmarter, you can create your own learning goals, and we'll track them for you! Our StudySmarter planner dynamically adapts to your goals, study style, and preferences, and it even gives you a nudge telling you it's time to get off Facebook and start studying. Simply tells us your exam dates, and we'll create a tailored study plan for you.
Gamification. Make studying a little less boring and a little more fun by collecting points and earning badges. The more you study, the more you earn.
Personalised dashboard. Track your progress with our analytics and your own dashboard to see how you're progressing and sticking to your study plan.
For a more detailed explanation of the difference between our web version and mobile app (available on Android and iOS), you can check our article, The StudySmarter App.
Price
StudySmarter is free! However, there is a premium version, which removes ads and gives you access to materials offline. You can choose a monthly option for €9.99 or the annual version, which is €69.99.
A Free Alternative to Khan Academy
OK, so we've given you a comparison, but in case that was TL;DR because we know how eager you are to get back to your studies😉, here is a table summarising Khan Academy and StudySmarter.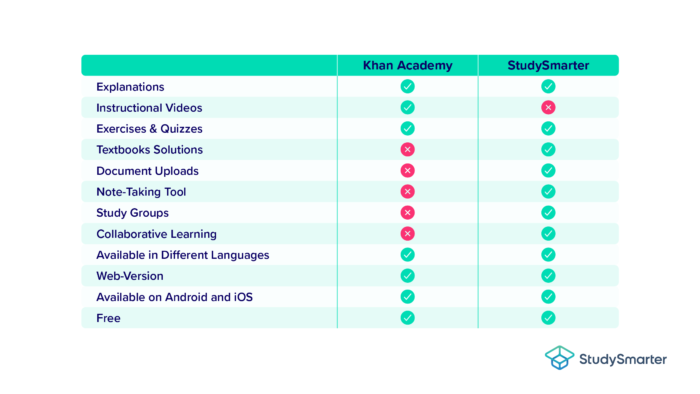 Ratings and Reviews: Let the Ratings Do the Talking
Khan Academy has a 4.3-star rating on Google Play and a 4.4. start rating on the App Store. StudySmarter has a 4.6-star rating on Google Play and a 4.5-star rating on the App Store.
Here are some reviews of StudySmarter on Google Play:
Amazing app. I've had trouble with revising, I always procrastinate, but this app has given me the motivation. The endless options and flashcards are great, and they have personalised options, and it's all for free. Definitely recommend.
Amazing app – I so recommend it. I am creating various sets of flashcards to help with my GCSEs, and this app will be super helpful! The flashcard free markup (paid on Quizlet) and uploading of documents (also free) are also going to make a big difference.
I absolutely recommend this app. It has a great flashcard system that SERIOUSLY came in handy when I was panicking about a test. You can colour-code your flashcards, add photos to them, and you can even set up goals in this app. 10/10 rec if you want/need the help!
The app itself is great! Saw many advertisements for it on platforms like TikTok and was hesitant at first, but I shouldn't have been! It is perfect for revision and making flashcards, as well as helping you figure out what you need to work on more.
This app is so useful! I can revise walking to school, on the bus, and any other time! It's so well laid out, and you barely get any adverts. I love revising with flashcards, and this app is perfect for that and so many other things!
StudySmarter: The Best UK Alternative to Khan Academy
And there we have it! We're going to call ourselves the best UK alternative to Khan Academy because apart from focusing on the US school curriculum, we also focus on the UK curriculum!
Both Khan Academy and StudySmarter have their own fantastic features and learning materials, but if you really want an all-in-one learning platform (with an awesome app) where you can truly take your studies into your own hands, StudySmarter is definitely the best option! We've got everything you need to succeed, neatly packed into a powerful app.
All the best for your exams and studies; we're rooting for you! Go get that gold! 🥇
PS If you're looking for some study tips, check out our Magazine. We will be uploading more and more content on specific subject areas and degrees, so keep your eye out for that!