This post may contain affiliate links. When you buy through links on our site, we may earn a small commission at no additional cost to you.
What is a Bullet Journal and Why Are They Hyping It Up?
Whether you're into writing your thoughts down or not, you've probably heard some bits about what a bullet journal is. A bullet journal (or BuJo) is a creative mix of a to-do list, a daily planner, a diary, and a general life tracker. In the words of Ryder Carroll, it is meant to 'help you track the past, organise the present, and plan for the future' – and that is precisely what it does.
The only thing you need is, well, a bullet journal and a bit of time. And creativity. OK, and discipline. Well, maybe it's more than simple journaling, to be precise. Bullet journals are usually compact A5 hardcover notebooks that you can take anywhere you want, and they help you keep track of your chores, achievements, plans, and dreams.
Bullet Journal – What's It Good For?
Writing in a journal comes with many benefits, such as:
Improved time management ⏰ Once you have a good overview of what needs to be done and when, you're less likely to sleep on your tasks.
Better self-care ☕ Journaling will help you schedule that much-needed rest time for yourself and get to the bottom of things that bother you.
High emotional regulation ☀️ If you 'talk' to your journal regularly, you're more likely to process your emotions, understand them better, and choose an appropriate course of action.
Goal visualisation 👀 Goals are much easier to achieve when you know exactly what you want. You can use your bullet journal to detail your journey to success.
Greater accomplishments 🎉 Since planning is an inherent characteristic of a bullet journal, sketching out how you will achieve your goals and ticking the steps off the list will slowly bring you to them.
Boosted creativity 🎨 Bullet journals are not only tools for jotting down clinical notes. You can turn each of them into a small art project with stickers, doodles, pictures, and memorabilia.
Improved mood 🤩 You can use the journal to write out your positive affirmations and get rid of negative thoughts.
With that said, it pays off to consider getting one 😉.
Simple Bullet Journal Ideas to Get You Started
You can buy a bullet journal just about anywhere – from simple black ones to fan merchandise designs. But how do you go about them, then?
To start your bullet journal, you don't need too many frills – a pen and any notebook or a good bullet journal will do. Many people prefer lined or grid paper, as it's easier to keep the writing tidy, but some prefer to sketch, doodle, and even paint through their journals. Totally up to you!
Apart from those, you can create some of these:
A List of Collections
📣
Everything you do in a bullet journal is a collection: daily plans, self-improvement techniques, long rants – whatever you feel you need to write down. You can think about dividing your collections into several journals. For example, you can have one for big dreams, hopes, anger management monologues, and meditation exercises; another for calendars and plans. Feel free to organise your BuJo(s) any way you like.
An Index
🧾
Usually, you'll have the index page at the beginning or the very end of your BuJo. It's a table of contents that doesn't need to be chronological. An index lists the topics covered in your journal and indicates on which page you can find them. It helps keep track of everything you've covered and gives you an overview of your goals and plans.
The Future Log
⚖️
Go absolutely nuts here and list all your dreams, bucket lists, plans, ideas, and life goals. Be honest with yourself about what you want and how you can achieve it. For instance, I may gladly say I want to be a professional illustrator, but I am aware of the current restraints of my schedule. Still, I can write it down, create a feasible plan to improve my skills, and see where that takes me.
Daily, Monthly, and Weekly Spreads
📖
Spreads are easy (and beautiful) pages that provide an overview of everything you need to do within a specific timeframe. You can decorate them with doodles, symbols, highlighters, and colourful pens to mark priority and your emotions on the subject, as well as achieve the attention-grabbing effect that would prevent you from forgetting your plans. For instance, it's perfectly fine to mark an upcoming exam with a ☹ and draw hearts around your dates.
Bullet Journal – How to Divide it Into Sections?
While there are no strict rules about what you can do with your bullet journal, it is a common trend to divide it into sections that help you keep organised. Monthly and weekly spreads are quite popular, as are various habit and progress trackers. Let's take a look.
Your First Bullet Journal – Weekly Spread
Spreads are great for giving you an overview of everything you have going on in a particular timeframe. While daily spreads may be too much work, weekly spreads are ideal for organising your time.
The point of a spread is that you use both pages of the journal so that when you open it, you have it all at a glance. All you need to include are the days of the week and what you intend to do (or have to do) on those days. It's up to you how you will divide the pages and whether you will decorate them.
Check out some of these ideas: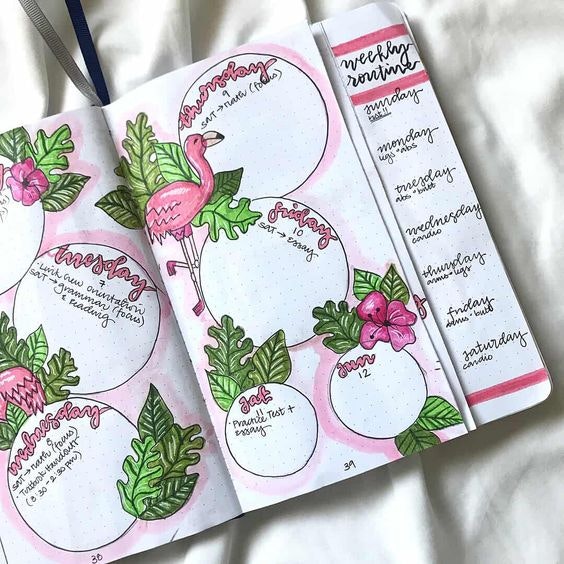 How About a Monthly Spread?
While you may still be able to remember what you wanted to do during a particular week, it's sometimes hard to keep track of all your commitments for the upcoming month. Fear not, your bullet journal monthly spread is here to help!
Monthly spreads are like small overview calendars with important appointments, dates, and deadlines. You can divide the spread into traditional squares, or get creative and develop your own system.
Ever Heard of a Bullet Journal Habit Tracker – Your Way to Your Best Self
One of the best ways to make the most out of your bullet journal is to keep track of your habits and have that famous glow-up. Because everybody knows that a true glow-up comes from knowing you're taking deliberate steps to make the most out of your life.
A habit tracker works like any other plan. You can create a marked grid that tells you when you're supposed to do something that will help you create healthy habits and stick to them.
If we accept the knowledge that it takes about two weeks to start a habit and three to get rid of the old one, you can use your weekly spreads to start the change as early as today. PS Did you know you're more likely to do something if you write it down?
For instance, if you've noticed that you're getting up feeling sluggish and in a poor mood every day, it's reasonable to guess your sleep quality is not up to standard. Obviously, you'd want to change this, as constant sleep deprivation can lead to numerous unpleasant consequences.
To improve the quality of your sleep, you want to create a good bedtime routine and introduce some exercise into your day. Write these into your journal, making sure to set the time for each activity you have planned. Make an effort to stick to your idea and cross it off (or check it) once it's done each day.
In addition to the plan, you'll want to have a habit-tracking collection where you'll detail what you've done to create a good habit and how you've felt. Don't be surprised that you're feeling much better or find it easier to uphold the habit as time passes.
Check these out to find some inspiration for your habit tracking:
A Few More Bullet Journal Ideas for Beginners
Starting a journal for the first time can be overwhelming – all those details to remember! What goes where, what section to include on which page, and how to arrange symbols? Too many questions, and everyone seems to forget the simple truth: Bullet journals are not mandated by law. Sure, many people are making it seem like it's some precise science that comes with a stringent rulebook, but this is not the case.
A bullet journal is meant to be a personal artefact and a means of self-expression, not a copy-pasted spread from something you've seen online. Let your creativity take over when you create your spreads and dream-catching plans.
You can also include some of these elements in your bullet journal:
Books to read and book reviews. There are too many books in the world that don't receive nearly as much attention as they should. Create your to-read list and start a good habit. You can also have a collection of reviews where you'll outline what you liked or disliked about every book you've read. (PS If you don't know where to start, check out our recommendations on women's fiction, thrillers, and LGBTQ+ books!)
Financial spreads. Everyone knows students are poor, but you can work on your thriftiness by creating a spread of your monthly expenses, savings, and long-term plans.
Lifestyle collections. You can consider this the ultimate YOU project in which you define and enrich various aspects of your life. Love art? Write about it, read and learn everything you can about old masters, and check out contemporary creators. Enjoy fitness? Great, time to start developing your own routines. Interested in minimalism? Practise it in this section of your journal. The possibilities are endless!
Of course, don't forget to include writeups on your best experiences – from travel to detailed info on how that date went 😉.
How to Make a Study Journal?
We wouldn't be your favourite study blog if we didn't have a few ideas on organising your studies with a bullet journal.
To boost your study performance, you should include these pages in your BuJo:
Semester spread. It's important to know when holidays are 😉. And, sure, exams and tests.
Syllabus overview. It's always good to know what you need to prepare and when + have a good overview of when your assignments are due.
Weekly schedule. You don't need to wake up one day and find you've slept through an important lesson (of course they keep attendance in the morning, amirite?)
Books you need to read. University courses often come with assigned reading lists. Don't miss out on too many of them, these texts tend to show up in exams.
Course outlines and the most important concepts. There's no reason why your bullet journal shouldn't be a study buddy too. Jot down the most relevant details of your courses – you'll remember them faster.
Project plans. Sometimes professors like to challenge you in different ways and set up longer projects. Keep track of what needs to be done in a special project spread.
A few other pages you can include in your study planner are:
A formula page – all important formulas and functions at a glance
Progress bar – fill it in as you go along
Budget planner – you don't want to eat ONLY beans on toast at the end of the month
List of library books you need to return – libraries are great at witch hunts, don't be the target
Future log – don't lose sight of your goals
Study overview – always be on top of your credits and requirements
Bullet Journal PhD Edition
If you're currently pursuing your PhD, you're probably too busy to always write in your journal, but that doesn't mean it can't help you on your long journey to a prestigious degree.
Keep track of your bibliography (for the love of god, do it)
Create mind maps to structure your arguments
Plan your experiments in special project spreads
Have a progress bar for your chapters
If you're teaching, organise your syllabus in a creative way
PhD is a lot about organisation, but even more about keeping yourself sane. In addition to planning and structuring, you should have a list of positive affirmations, reminders of why you're pursuing a doctoral degree, and designated pages for venting.
A Word on Bullet Journal Supplies
If you go on Instagram and scour the #bulletjournal tag, you'll find people doing all sorts of fancy things with their notes. A lot of the time, you'll see them combining various materials and approaches – writing, drawing, clipping things on, cutting and folding pages, and using tons of stickers, colourful tapes, and TONS of glitter.
I won't deny that it looks beautiful, but before you enter the endless spiral of buying BuJo supplies, you should work your way into journaling. Give it a heartfelt go to figure out if it's really something for you first. You don't need much more than a few pens and maybe some washi tape. As you get into it, you can add more details and materials when you feel inspired or want to experiment with something different. So, yes, I lied! There are no must-haves, only would-look-cutes – whatever you feel you need.
And while you're at it, I have a challenge for you: look for inspiration, but don't copy.
When you look at all these fancy bullet journals online, you may notice that many of them are stealing each other's ideas, putting in the same quotes, or trying to fit their lives into recognisable and easy boxes. Don't do this. Pick what you like but use your bullet journal as a medium of self-exploration and expression of your individuality. Don't sacrifice having fun with the idea of a fancy journal as presented online. As always, online is not real. Who's to say that that person with perfect vignettes on every page is not using a bullet journal as a way of procrastinating? Keep it real 😉.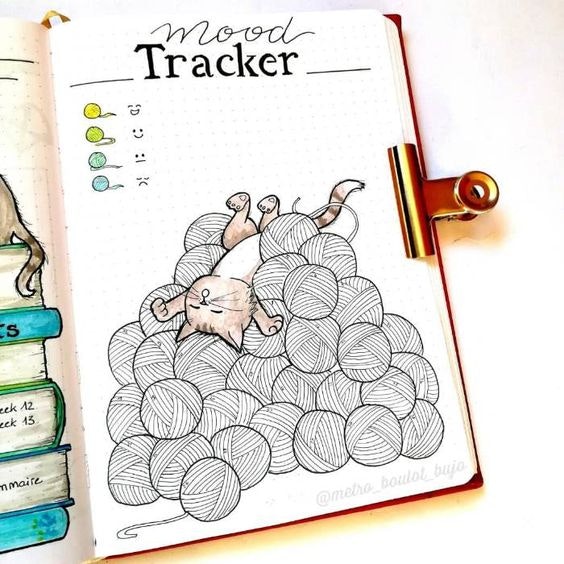 Bullet Journal: A History
Bullet journals are great tools for organisation and self-improvement. From basic to-do lists to artistic ventures, they are perfect for helping you process daily events, keep track of your goals, and explore your creativity.
You don't need much to start a bullet journal – just some pens and, well, a journal. You can use it for:
Tracking your habits.
Daily, weekly, and monthly spreads.
Personalised collections of everything you love.
Goal setting and planning.
Eternalising moments and memories.
Let your creativity shine, and have fun!