Quizlet App – What is it?
So, what is Quizlet? Basically, it's a pop-quiz app with an enormous database of more than 300 million study sets across various subjects. Study sets work as decks of flashcards that you can shuffle and play to test your knowledge on your subject of choice.
The story of Quizlet is a cute one in the mythology of online learning. The story begins long ago. Many aeons ago – in 2005. The CEO, Andrew Sutherland, created it to help him master vocabulary for his French test. Now, if you've ever had to learn lists and lists of vocabulary for a test, you know how unrewarding it can be. It turned out that Mr Sutherland's app worked just fine for him, so he shared it with friends. And they shared it with their friends. And the little app took off!
Quizlet Free App – Major Features
As indicated up there, Quizlet is a partially free app. Setting up an account is easy, and you're ready to go as soon as you've provided your basic info or connected the account through Google or Facebook. Once you're in there, you can select your school and pick subjects you want to get tested on. Each subject has its own study sets based on themes or particular books. Study sets are essentially stacks of flashcards that you can go through wherever you are (as long as you have an internet connection).
Apart from flashcards, Quizlet has textbook solutions for tons of books in standard use in schools. You search the database for the book, get a list of chapters, et voila! Whatever questions and tasks there are in the book, they're there smiling at you with simple steps guiding you to the result.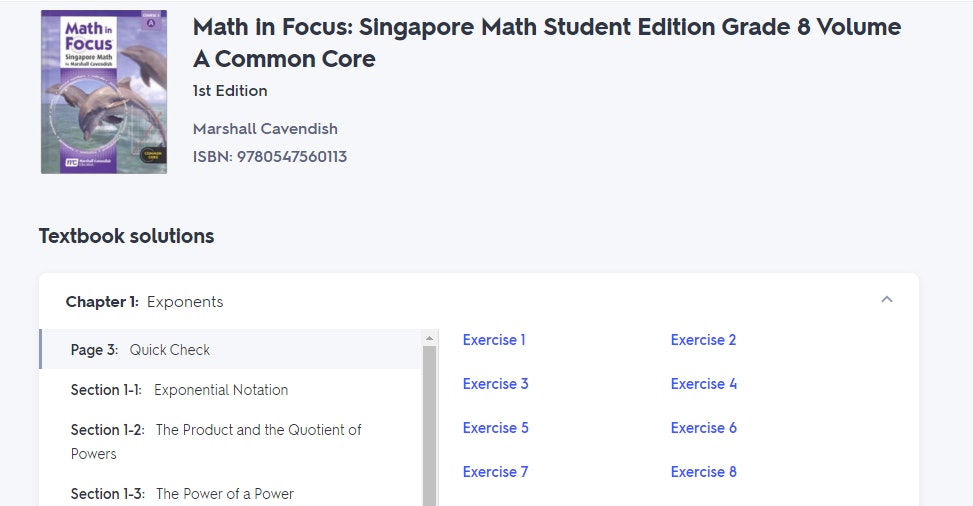 Quizlet Subjects at Your Disposal
Quizlet mainly focuses on high school subjects. It covers the following areas: arts and humanities, languages, maths, science, social sciences, and the mysterious other, which covers hobbies, computer skills, and sports. The categories are further divided, so 'arts and humanities' has English, film and TV, history, and music and theatre. You can select a theme/topic and get a set of flashcards to jump right in.
If you're not familiar with the subject, you can create your own study path and personalise it to your liking based on your goals: from learning as quickly as possible to simple revision; you'll be led through a series of questions with multiple choice answers to master the subject you're learning. Unfortunately, questions are limited and repetitive as they try to get you to remember only these answers. Additionally, lots of these learning paths offer limited views on any topic (which, especially in arts and humanities, is not ideal) without straying too far from basic ideas. The app relies on activating your power of recall to help you study, but it does not necessarily offer the most effective way to learn.
Quizlet Plus Price
How much is Quizlet Plus, you ask? The premium plan from Quizlet, called Quizlet Plus, gives you access to advanced study tools and features. As of 2022, Quizlet Plus costs £6.99 ($7.99)/month or £31.99 ($35.99)/year. It offers offline study and removes ads, and allows students to use Quizlet Learn to master the subjects.
However, glancing at the Quizlet subreddit informs me that Quizlet users are unhappy with the premium version and advise against getting it.
Quizlet App vs StudySmarter
Well, no. Well, yes. I can be mean and ruthless, but without wanting to raise red flags, I am being honest, and you knew this was coming: the battle of wills. In our corner, StudySmarter, the leading EdTech app! In the opposite corner: Quizlet, the flashcard legend! 3, 2, 1, go!
Interface
Quizlet looks and works simply enough – mostly white surface with clearly legible flashcards you can flip through. Easy-peasy, right? Unfortunately, not always. Once you've created your account, you might have trouble reverting to the homepage version and searching through subjects freely. You will most likely be able to add subjects, but browsing can be tricky.
Flashcards work without glitches and offer consolation words when you get something wrong. You can shuffle them and repeat. I particularly liked the matching exercise – excerpts from a text are shuffled and thrown about the page, and you have to drag them into the right order. The timer on the left adds extra pressure, though 😄.

StudySmarter may not offer the matching exercise, but its sidebar is more accessible. You can switch between relevant topics, flashcards, and explanations without much fuss, making your learning more efficient. After all, it's meant to be a learning app, not a game where you need to click through tons of pages before you finally find what you're looking for.
Materials Provided
Quizlet is not a learning app; it's a pop-quiz platform and should be treated as such. There are some explanations, but you have to pay for them, and Quizlet's main feature is flashcards. The app is probably the most effective in its fundamental purpose – language revision. The CEO had the right idea with his vocab flashcards, but this, unfortunately, does not work for all subjects.
StudySmarter, on the other hand, is a holistic app meant to boost and facilitate your studying by providing you with materials. It makes no sense to expect you to be able to answer our flashcards without giving you any hints about what we're all about, right? Instead of stumbling in the dark, you can rely on our expert-written explanations before testing yourself. Among our original study sets, flashcards, and progress-tracking, you're guaranteed to achieve your goals quickly!
Lastly, like many other apps, Quizlet is mainly focused on schools and getting you through tests and to graduation, whereas StudySmarter goes beyond school and well into university years. Studying doesn't stop at high school, and, let's face it, it gets only harder from there. So, if you need more help from peers and lecturers, you know where to find us!
We Can Be Friends Too: Linking Quizlet Flashcards with StudySmarter
Yes, it is possible. You can import your Quizlet flashcards into your StudySmarter study sets to ramp up the challenge. In fact, I dare you to do that! Take your time with our explanations, learn your materials, and see how you fare with a mixed bag of flashcards 😊.
Progress-Tracking and Success
Both apps have a progress-tracking option available, but Quizlet will ask for a nice little donation from you in order to access it. As you plough through any study set, you'll only get simple stats about how many questions you've answered and how many tabs with information you have left. They do have simple badges informing you how long your study streak is to keep you motivated. Additionally, some flashcard sets come with 'XYZ a day' (like new vocabulary items or definitions) and require you to return daily for new input in order to earn a badge.
StudySmarter has an accessible progress tab in its interface measuring your study time and success. More importantly, StudySmarter employs the powerful psychology of motivation by encouraging you to set your weekly goals. For example, by setting your target amount of time and meeting it consistently, you are also working on your discipline, which often takes you further than waiting for motivation. Additionally, you can follow up on how many slides and flashcards you've understood and even summarise information into documents and mark those too!
Community
Quizlet encourages teachers to use the app with their students, but that's as far as the community goes. You don't really cooperate with your peers (unless you have Quizlet Plus where you can edit flashcards), and you work on your own knowledge. Which is totally fine. However, if you wish to access a broader library of input and exchange flashcards and questions, we cordially invite you to join us 😊!
Above and Beyond
Quizlet has an insider blog with lots of reports and updates on what's going on in the app. They also (and I do love this!) have a cute collection of articles promoting diversity, classified sections for various heritage months and movements, as well as tips for teachers on sharing some resources with their students.
We are very proud of our magazine too! It's divided into various sections of interest about the app and all areas of life. Need help figuring out how to study according to your learning style? Struggling with self-optimising? Looking for a good podcast to listen to? StudySmarter takes student life seriously – we know it's not easy to study in the age of distractions, which is why we're putting extra effort into building this database for you. We've all been students, we know the ropes already, and we are more than willing to share! 😉
To summarise quickly: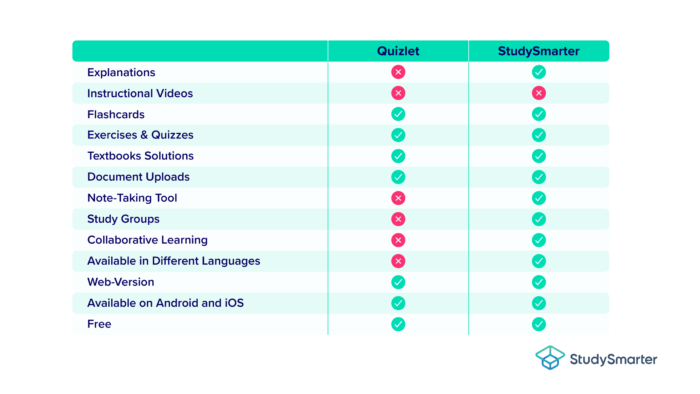 The Verdict: Quizlet App or StudySmarter?
The star is born! And that star is not really Quizlet today! StudySmarter trumps good ol' Quizlet in many aspects.
Become the star of your student life today – study smarter, not harder 😊!