Work and Travel Program – What Is the Point?
They say there are just those student things – being able to party four nights in a row and come to an exam on the fifth day, surviving on odd food combinations, and knowing exactly which lecturer has the hots for which professor. You just have to open your eyes occasionally as you walk through your university, and you can't miss it. The Work and Travel program is also one of those things – everyone has heard of it, and some mythical students have even done it. It's just that sometimes these students are hard to catch. But not to worry, we are here to enlighten you!
As the name suggests, Work and Travel is structured around giving students a chance to spend considerable time abroad and even make some money to survive without bleeding themselves dry in the process. But what's the point of such programs?
The idea behind Work and Travel is that students get a chance to gain professional experience, boost their soft skills, learn about the culture and lifestyle of the target country, and raise their international awareness. Maybe the jobs aren't always premium, but the program organisation promises enough income to lead a decent life. I say relatively decent because it's naïve to think a Work and Travel program would allow for massive luxuries.
Still, the good thing is – you're young and full of energy. The fact is that students are more agile and flexible with their lifestyle needs, and as long as you have a warm place to sleep and enough food, you're more likely to forget about minor discomforts as you enjoy the benefits of what you're doing.
Where to Start with Work and Travel Plans
There are many ways to look at a Work and Travel program and even more questions. Essentially, you have two major options and a big choice to make: going through an organisation or managing your whole adventure yourself.
Organisation Pros and Cons
Pros
Less stress over getting there.
Secured accommodation and even food sometimes.
Fixed contract – no surprises.
Likelihood of good income.
Cons
Organisations charge you a good deal in advance.
You don't like the job you get.
Lack of flexibility.
Likelihood of not-so-good income.
Here's the thing: how much money you'll get is a sort of a gamble, which depends on your skills and how lucky you are to land a good job. Working in the service industry can be stressful, exhausting, and underpaid, whereas getting an office job tends to be more rewarding.
Going on a self-planned Work and Travel adventure allows you to look for specific opportunities that cater to your own interests. You can apply for relevant jobs directly, pick a place you want to live in and work at, and shun any social obligations an organisation may impose on you. Solitude allows for greater flexibility, pushes you out of your comfort zone, and can teach you valuable self-management skills.
On the other hand, going on your own reduces security from the get-go. You're in charge of finding a job, accommodation, and means of transport, and there's even a chance someone backtracks on their promise, leaving you stranded. If you're not fully fluent in the target country's language, you'll also find it more difficult to fight for your rights.
Regardless of what you choose, working abroad is a great chance to boost your CV, gain an invaluable international perspective, forge lifelong bonds, and obtain supreme abilities to contend with any trouble that comes your way.
As for the organisation … well, as they say: choose wisely (and according to your preferences).
Introducing: Global Work and Travel
Since there are some irrefutable benefits to Work and Travel with an organisation, we're introducing the leader in the market: Global Work and Travel.
This massive company covers just about any type of professional engagement, from typical work and travel programs to volunteering to mentoring and studying. Its services include helping you find a job, guiding you through getting a relevant work permit/visa, and providing a 'persona concierge' who will help you plan the minute details of your trip, including insurance, a bank account, and a growing library of courses and seminars.
Global Work and Travel covers various English-speaking countries and aims to provide you with a job that matches your skills and interests. The process can be long – anywhere between six and 12 months, meaning you cannot just go on a whim but have to plan and apply on time. It also has a massive network of partner companies familiar with the structure and idea behind working and travelling, so you will secure a position before you fly.
In addition to helping you with existential essentials (like getting you a SIM card, helping you with moving into your new place, or providing emergency services), this organisation also arranges sightseeing tours, social activities, and networking events so that you don't have to feel alone in a foreign country.
Global Work and Travel Reviews
With everything they offer, Global Work and Travel seems like a dream come true, but what does user experience tell us?
The organisation has 4.3/5 stars on average on various ranking websites such as TrustPilot, ConsumerAffairs, and TripAdvisor.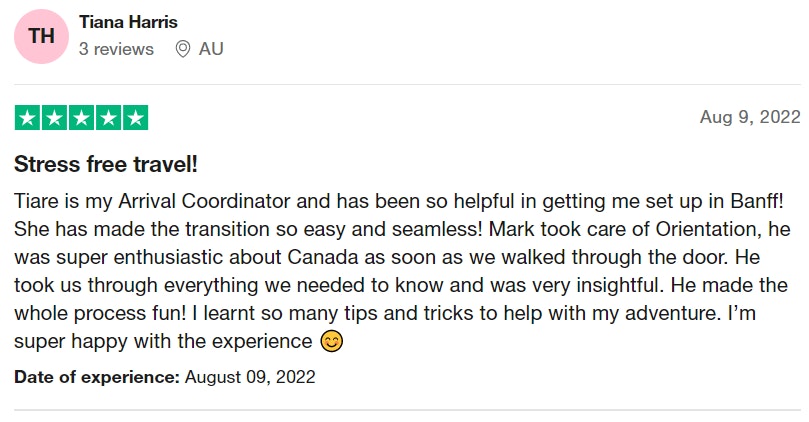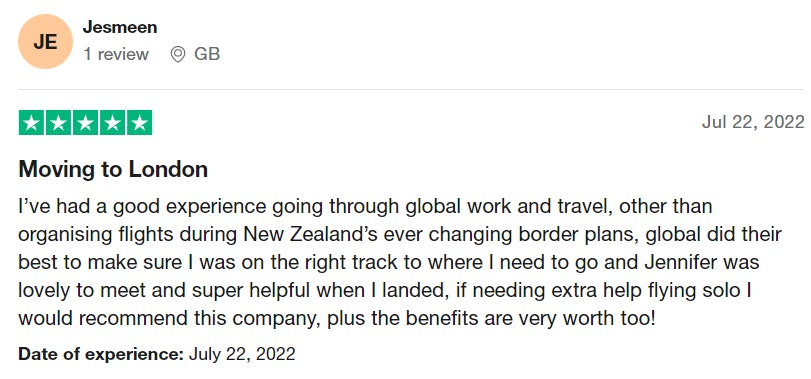 For the most part, reviews are stellar, with some odd exceptions complaining about extra charges. However, after cursory reading through bad reviews, it is quite clear that unhappy customers either hadn't read the beloved Terms and Conditions or had not considered the toll of Covid (e.g. cancelled flights and difficulty relocating).
Bonus: former employees also tend to rate the company as a great workplace, which is a good sign! Overall, this is a trustworthy organisation you cannot go wrong with.
How Can You Travel and Work Abroad?
While Work and Travel implies travelling around, don't be misled into thinking this is a long holiday. The travel part of the deal is you travelling to the country where you're supposed to work. As you know, work tends to be time-consuming, especially in our relatively toxic hustle culture, which may leave you somewhat exhausted.
But can you travel while working?
The short answer is YES!
The long answer is Yes, but …
You can travel throughout the country even if you're working, but this requires some well-developed organisational skills. You can arrange your workdays and shifts in such a way that would give you a couple of days free every now and then, and you should definitely use that chance to see a bit of the world. Make weekend trips, sign up for sports courses, and explore historical places. Learn the art of slow travel, chat up some friendly locals, try new foods, and take those snaps for Instagram – just don't forget to soak in the place too.
Work and Travel vs Remote Work and Travelling?
Another way to see the world and still have a source of income is to get a fully remote job. This way, you get to work for a company in your home country under regulations you're familiar with (e.g. good health insurance, sorry America) and still travel around. However, this is more like any trip you make on your own with the added pressure of working as you're supposed to.
Work and travel is a short(ish)-term stay in a foreign country where you work for a foreign company under their laws. The income you make is dictated by what is perceived to be the livable wage + relevant bonuses, which can make things easier. For instance, it's better to do Work and Travel in the US under their laws, especially if you come from a poorer country, as your home income probably wouldn't sustain you in the economy of growing dollar value.
On the other hand, if you really love your home job and have a little nest egg tucked somewhere aside, you can travel and work remotely and still enjoy the experience – with some prudent time-management skills.
Work and Travel – Highlights and Benefits
As you have noticed, Work and Travel is a good chance to see and live in a new country, experience its work culture, gain relevant professional experience and skills, and travel around a bit. If you choose to go with an organisation, you're more likely to have a stress-free experience, even though the organisation's expenses may force you to dip into some of that hard-earned income.
Work and Travel offers numerous benefits to its participants:
A chance to meet new people and make lifelong friendships.
Full immersion experience in the target country.
New insights into your field of work.
A chance for a permanent relocation if you do your job well.
Boosting your CV.
And, as always, anything that takes you out of your comfort zone promises an amazing opportunity to get to know yourself as much as the new place you find yourself in. The more you learn about who you are as a person, the easier your lifepath becomes, as you'll know exactly what you want.
Travel the world, do a good job, and don't forget to have fun!